Cat Services
Please choose from the following cat care services.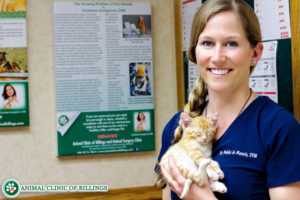 Let our highly trained and experienced team of veterinarians and veterinary technicians help you keep your cat as happy and healthy as they can be.
Call the Animal Clinic of Billings and Animal Surgery Clinic to schedule your pet cat's next wellness examination with one of our veterinarians today!
406-252-9499
ANIMAL CLINIC OF BILLINGS AND ANIMAL SURGERY CLINIC
providing our region's companion animals and their families what they need and deserve since 1981
1414 10th St. West, Billings MT 59102
406-252-9499