Cat Acupuncture
What is Acupuncture?
Acupuncture is a safe, effective treatment that allows our veterinarians to address a number of health issues and reduce pain in cats. Acupuncture stimulates the nervous system by inserting fine needles into precise points on the body. From Western medicine's perspective, feline acupuncture decreases inflammation by stimulating nerve centers and resulting in the cat's body to release its own pain-relieving substances.
Eastern medicine describes acupuncture as stimulating Chi meridians and removing blockages so energy can move freely through the body. The most critical perspective, however, is that cat owners consistently see improvement in their pet's quality of life after receiving acupuncture treatments.
HOW CAN ACUPUNCTURE HELP MY CAT?
Most cats tolerate acupuncture treatments very well. Acupuncture effectively treats a variety of health issues that are common in cats. Acupuncture directly addresses pain relief in cats, which is often difficult to assess because cats are adept at hiding pain.
WHAT CONDITIONS CAN FELINE ACUPUNCTURE TREAT?
Veterinarians use traditional methods to diagnose the condition of a cat. After a thorough medical exam, our veterinary staff will make an accurate diagnosis and may recommend acupuncture as a treatment.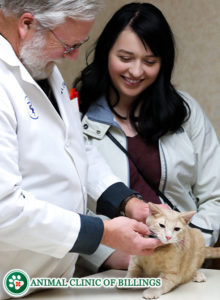 Conditions benefiting from acupuncture include:
Chronic pain

Arthritis

Kidney and liver disease

Gastrointestinal disease

Asthma

Arthritis in the spine, neck, and lower limb

Metabolic disorders such as kidney disease

Stimulating a cat's appetite (essential with kidney disease)

Treating inflammatory bowel disease

Pain management, pain relief or muscle spasms
WHERE ARE THE ACUPUNCTURE POINTS FOR CATS?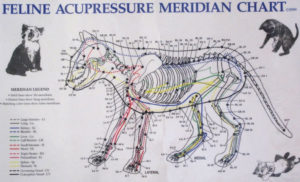 Acupuncture points for cats exist throughout the musculoskeletal system, along the spine, near all major joints and around the head.
WHAT GOES ON IN A FELINE ACUPUNCTURE SESSION?
Most cats tolerate acupuncture sessions easily. The Animal Clinic of Billings' goal is for cats to be comfortable throughout the session…so comfortable that they will fall asleep. The needles are small and slide easily into the skin.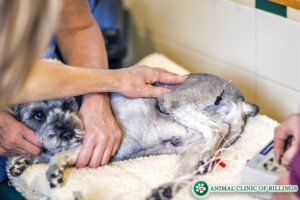 Through training, our veterinarians know precisely how to administer acupuncture without causing any pain. For some cats, it may be calming for the owner to stay in the room during treatment. Once acupuncture needles are inserted, they will remain in place for 5-12 minutes. The needles are then removed, and the cat can go home.
HOW SOON WILL MY CAT EXPERIENCE RESULTS?
Some cats find relief after their first acupuncture session. It is common for cat owners to report a noticeably hearty appetite and renewed physical abilities. In many cases when treating chronic conditions however, it may take several acupuncture treatments before any significant progress.
ADDITIONAL EASTERN MEDICAL PRACTICES FOR CATS
Other eastern medical practices that enhance feline healthcare include acupressure, in which pressure is applied at specific points on the body. Additionally, the applications of herbal and food therapies are beneficial in treating feline illnesses. Many cats are finicky eaters, so food therapy may require patience on the owner's part. 
IS ACUPUNCTURE PAINFUL FOR MY CAT?
No. Most cats tolerate acupuncture very well. Our veterinarians are trained to administer acupuncture without hurting the patient. Cats are so relaxed that they often fall asleep during acupuncture sessions.
HOW OFTEN WILL MY CAT NEED A VETERINARY ACUPUNCTURE TREATMENT?
This depends on the cat and the condition being treated. Some cats respond immediately. For others, it takes several consistent acupuncture sessions before there are noticeable improvements.
When scheduling a cat acupuncture treatment or series of treatments, one of our veterinarians will make discuss the treatment plant to provide you with a complete picture of the proposed acupuncture regimen. 
HOW TO SCHEDULE A VETERINARY ACUPUNCTURE APPOINTMENT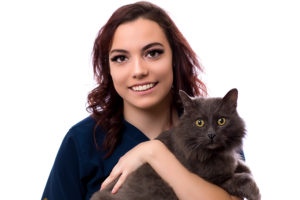 Let our highly skilled and experienced team of veterinarians and veterinary technicians help you keep your cat as happy and healthy as they possibly can be. 
Call the Animal Clinic of Billings to schedule your cats next wellness examination with us today!
406-252-9499
MORE VETERINARY CAT SERVICES
ANIMAL CLINIC OF BILLINGS AND ANIMAL SURGERY CLINIC
providing our region's companion animals and their families what they need and deserve since 1981
1414 10th St. West, Billings MT 59102
406-252-9499