Senior Cat Care and Veterinary Services
HEALTH NEEDS OF AGING FELINES

If you have lived with your cat since it was a kitten, you have a good sense of what is normal in terms of behavior and habits. Any changes can indicate a sign of illness.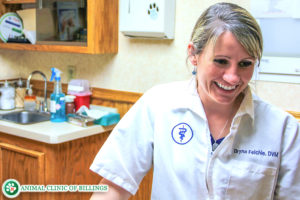 Because cats hide signs of illness, even the most astute owner may miss changes in behavior, especially when the onset is gradual. It is crucial you, and your cat visit your veterinarian annually until 8 years of age and then semi-annually after 8.
During the visit with your veterinarian, you will discuss habits and behavior that may signal health changes. This exam will give you a different perspective on the health of your cat and may help you identify signs of illness.
Through a thorough exam, your veterinarian also will determine where your cat is in the aging process and how you can keep him healthy and happy. Senior cat veterinary appointments identify illnesses that may be at an early stage. Your veterinarian will devise a plan for the treatment and management of any symptoms causing discomfort. Managing illnesses with a combination of diet and medications may significantly improve your cat's health. A partnership between cat owners and the veterinary team is the best way to address and manage senior cat issues.
DETAILS OF AGE-RELATED CHALLENGES FOR SENIOR CATS
Changes that are common in older cats include:
Altered sleep-wake cycle

Changes in thyroid function

A decrease in kidney function

Changes in vision

Decreased sense of smell

Brittle/ingrown nails

Heart or circulatory problems

Decreased digestion and ability to absorb nutrients

Reduced ability to handle stress

Changes in behavior

Changes in mobility/arthritis

CARING FOR AN ELDERLY CAT
Being aware of your cat's behavior and habits is the most important role you will play during their senior years. Cats' needs change subtly over the years, but they still require the basics, including social interaction, exercise, and an enriched environment. All cats need a stimulating environment to keep healthy, They thrive on hunt hunting, playing, and being actively engaged. 
In addition, owners of older cats can do the following:
Accessible sleeping and eating areas

Adjusted physically challenging areas  

Visiting your veterinarian frequently

Dispensing medication

Making lifestyle accommodations
Understanding the role you pay in the life of your elderly cat is vital to helping them age gracefully. Your veterinarian is happy to provide insight and guidance on how to ensure your cat enjoys a smooth transition into its senior years.
WELLNESS VISITS FOR SENIOR CATS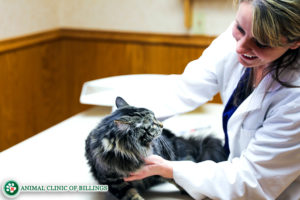 According to tot the American Association of Feline Practitioners, senior cats should visit the veterinarian every six months. Monitoring elderly cats in between visits is necessary because cats are very good at hiding symptoms of disease or illness. As they age, illnesses become common, and older cats are likely to develop conditions that significantly affect their quality of life.
Additionally, senior wellness visits can also include vaccinations, parasite prevention, and treatment for any specific conditions that your cat may develop.
A wellness visit for senior cats includes:
Weight and Body Condition

Skin and Coat Quality

Mouth, Gums, and Teeth

Ears and Eyes

Thyroid Gland

Heart and Circulatory System

Lungs and Nose

Abdomen

Joints and Muscles

Any condition changes since the last visit
SENIOR CAT FOOD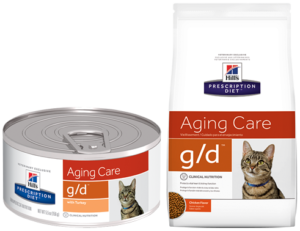 Feline nutrition is vital throughout a cat's life. It is, however, an especially important facet of senior cat care. Feeding older cats an age-specific diet helps:
Manage Weight

Increase Lifespan

Reduce or eliminate pain

Maintain healthy skin, coat, and bodily functions
Senior cat food is formulated, especially for an aging cat's nutritional requirements. The food can be served in dry or canned. Because older cats require more water, serving canned. Setting out multiple water dishes around the house is a good idea whenever possible. Feeding your at small, frequent meals 3-4 times a day will help food digestion.
DENTAL CARE IN SENIOR CATS



Pet owners who have addressed dental care with regular checkups throughout their cat's life have a significant advantage over those who have ignored their cat's dental issues. Regardless, it is imperative to seek dental care as your cat ages. Dental disease is a progressive degenerative condition that becomes very painful. Without care, your cat may be living with chronic pain. All cats over four years old have some level of oral health issue that causes significant pain. If your cat hasn't had a dental checkup in the past 12 months, he is due for one now. Please call us to schedule an appointment today.
406-252-9499
MANAGING DISEASE IN ELDERLY CATS
Aging cats are more susceptible to chronic disease. Some of the more common ones include:
Kidney Disease

Diabetes

Thyroid Disease

Hypertension

Gastrointestinal Issues

Arthritis

Cancer

Memory/Comprehension Challenges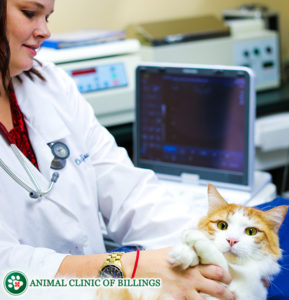 Managing diseases requires a knowledge of the ailment, and the ability to recognize symptoms in elderly cats before they become full-blown emergencies. It is crucial to monitor your cat's behavior and routine, and make a note of any changes, including the following:
Weight Loss

Increase in thirst 

Increase in urination

Diarrhea

Vomiting

Appetite

Litter Box Habits

Lethargy
If you suspect any changes in behavior or routine for your mature, senior, or geriatric cat, we recommend making a veterinary appointment immediately.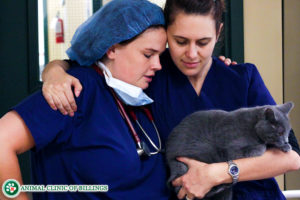 QUALITY OF LIFE FOR AGING CATS
Partnering with your veterinarian is a great way to enjoy your cat's senior years and help him to age gracefully.
During regular veterinary visits, quality of life issues will be addressed.
The veterinarian may discover serious health issues that require diagnostic testing and possibly procedures.
Assessment questions you and your veterinarian may review include the following:
Is your cat experiencing pain and if so, is the pain well managed?

Is your cat's appetite good? Does he show regular eating habits?

Is your cat interacting with you, other pets, and family members?

Does your cat experience more good days than bad days?

Does your cat stick to a routine with his or her sleeping, eating, and socializing habbits?
END OF LIFE DECISIONS FOR YOUR CAT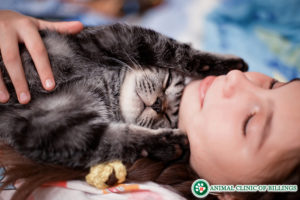 Partnering with your veterinarian through your cat's senior years will help you make end of life decisions bearable. These decisions are always difficult, but when you feel supported by our veterinary team, you will be more comfortable and accepting of your choices.
At the Animal Clinic of Billings, our compassionate, supportive veterinary team is available to to help you however wean. We understand this is a challenging time. You have lived with your cat for many years, and we are here to provide you with information about end of life services, including grief support.
WE ARE HERE FOR YOU AND YOUR BELOVED CAT
We are here to help our feline patients age gracefully and peacefully. We offer outstanding senior cat care services and compassionate veterinary support your cat enters its senior years. We have helped enhance the lives of aging cats while bringing peace and happiness to their human caretakers.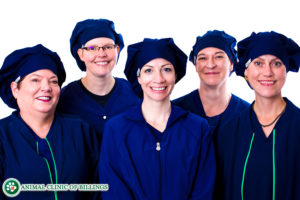 At the Animal Clinic of Billings, cat care is one of our greatest joys. To schedule a senior wellness exam for your cat or learn more about our senior care packages and nutrition counseling for senior and geriatric cats, please give us a call during our convenient daytime hours.
Call today!
406-252-9499
MORE VETERINARY CAT SERVICES
ANIMAL CLINIC OF BILLINGS AND ANIMAL SURGERY CLINIC
providing our region's companion animals and their families what they need and deserve since 1981
1414 10th St. West, Billings MT 59102
406-252-9499