Veterinary Cat Care Services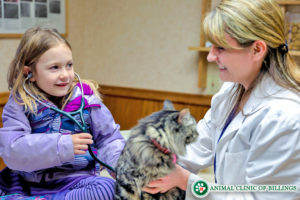 Since 1981, the Animal Clinic of Billings' veterinarians and support staff have maintained the highest standards of veterinary medicine. Cats are part of the family – both yours and ours. They need and deserve the best care possible and happy clients with healthy cats is our goal.
The most gratifying part of caring for our feline friends are the glowing comments from clients; " I have been coming to the Animal Clinic of Billings for 35 years. The staff treats my animals and me like family." What better testament to our efforts to provide outstanding care?
The Animal Clinic of Billings and Animal Surgery Clinic offers preventative health care as well as advanced diagnostic and surgical service. Our commitment to quality has made the clinic one of the most recognized and respected animal clinics in Billings and throughout Montana.
Call us today at 406-252-9499, to schedule your cat's next wellness examination with one of our highly trained and experienced feline veterinarians.
OUR GENERAL CAT CARE SERVICES
COMFORTABLE CAT CARE
Our feline friendly facility offers a variety of amenities, including a quiet room and play area just for cats and many other features designed to make each visit to the Animal Clinic of Billings relaxing and comfortable. We call it our cat condominium.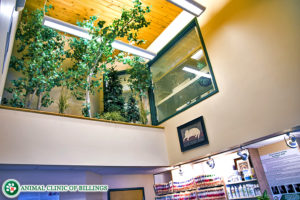 The room is located directly above the reception desk as you enter the Animal Surgery Clinic of Billings lobby. Cats can enjoy watching plenty of human activity throughout the day from their high-above-ground perch on the second floor. We use white noise, catnip, kitty hiding places, and jungle gyms to enhance the veterinary experience for our feline patients.
WE SUPPORT EVERY STAGE OF YOUR CAT'S LIFE
As your cat matures, she will move through six distinct stages of life:
Kitten: 0 – 6 months
Junior: 7 months – 2 years
Prime: 3 – 6 years
Mature: 7 – 10 years
Senior: 11 – 14 years
Geriatric: 15 + years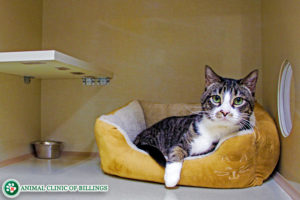 Your cat's health affects your relationship with him. As a cat progresses through life, he will undergo physiological changes and face a variety of life events that require attention. From kitten care to senior wellness care,  consistent preventive care can enhance your pet's quality of life.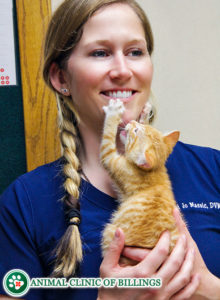 Cats are masters at hiding illness. A very sick cat may show symptoms of lethargy and disinterest in interaction, but any other signs of discomfort will be very subtle. A change in a cat's behavior also may indicate a sick kitty. Another sign of a potentially ill cat is that she doesn't greet you at the door when returning home from work.
The signs of cat illness are discreet, and should you notice any changes in your cat's behavior, please call our office.
406-252-9499.
EXTENDED HOURS AND EMERGENCY CAT CARE
The Animal Clinic of Billings provides 24/7 emergency care services throughout holidays and year-round to help you and your cat through any cat crises.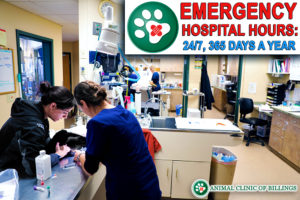 Please call us if you feel your cat is experiencing a medical emergency.
If your cat needs urgent care, day or night, the Animal Clinic of Billings and Animal Surgery Clinic veterinarians are there for you and your beloved pet.
406-252-9499
CAT HEALTH CARE SERVICES AND TREATMENTS
Listing all of the medical services and surgical procedures we provide for cats at the Animal Clinic of Billings would be rather daunting. However, here are some of the most common cat care services and medical procedures we provide for cats of all ages, breeds and circumstances:
Cat Allergy Testing: Cats commonly face a number of allergens that can cause a wide variety of symptoms, allergy testing can help us identify and properly treat the root cause of some issues
Cat Anesthesia: We have the facilities, equipment, medicine and knowledge to ensure your cat stays safe while under anesthesia
Cat Behavior Services: Your cat's behavior is not genetically inherent, but can be learned and unlearned with your commitment and our help
Cat Cancer Treatment: Our communicative, community approach to cancer treatment makes all the difference for you and your cat
Cat Cardiology: Our first rate facilities, equipment and professional knowledge gets to the heart of your cat's health and wellness matters
Cat Dental Care: Our knowledge and dental experience can help prevent and treat your cat's dental conditions, including periodontal disease
Cat Dermatology: Diagnosing skin conditions early is highly beneficial in treatment. However, if a skin condition has already developed, it must be addressed before it worsens
Cat Deworming: Intestinal parasites are a danger both your pet and family, let us ensure that your cat is protected from worms
Cat Diagnostic Imaging: Diagnostic imaging allows our veterinarians and technicians to accurately diagnose your cat's condition so that the proper treatment can be prescribed
Cat Emergency Care: We specialize in comprehensive emergency care, and our facilities are designed to address any veterinary emergency your cat may have
Cat Eye Care: Our doctors are trained to recognize feline specific eye disease and choose treatments based upon efficacy and your cat's tolerance to specific treatments
Cat Flea & Tick Prevention: We employ safe and effective flea & tick treatments for your cat's health and happiness
Cat Heartworm Prevention: We specialize in heartworm education prevention, diagnosis and treatment for your cat
Kitten Care: We help you learn to care for your kitten through education and nutritional awareness while providing the proper preventive medical treatments
Cat Laboratory and Blood Testing: Our laboratory testing services mean faster and more accurate diagnostics and treatments for your cat
Cat Laparoscopic Surgery: Our state of the art tools and facilities allow us to perform less invasive and safer laparoscopic surgery on your cat
Cat Laser Therapy: Our cold laser therapy is a tool used to treat cats for post operative pain, arthritis and other inflammatory conditions. It is painless and well tolerated by all cats
Cat Medications and Prescriptions: When your cat requires medication our doctors will provide the right prescription
Cat Microchip ID: Microchipping is the best way to aid in having your cat returned safely should it become lost
Cat Nutrition: We will address the specialized nutritional requirements for you cat in different life stages and to aid in the management of certain illness
Cat Pain Management: We specialize in effective and compassionate pain management for your cat regardless of age, ability or condition
Cat Preventive Care: Our comprehensive preventive care program is the first step to ensuring that your cat has a long healthy life
Cat Semi-Annual Wellness Exams: A cornerstone of preventive care, semi-annual wellness exams help prolong life by allowing health issues to be identified and addressed early
Senior Cat Care: We understand the special needs of aging cats. We will partner with you to provide the optimal plan for your aging feline
Cat Spay or Neuter: We provide a safe and painless surgical experience for your cat
Cat Surgery: Our facilities, equipment and staff offer your cat the best option for a successful surgery and recovery
Cat Vaccinations: Our veterinarians will recommend an individualized and personalized vaccination protocol based on your cat's needs
Let our highly trained and experienced team of veterinarians and veterinary technicians help you keep your cat as happy and healthy as they can be.
Call the Animal Clinic of Billings and Animal Surgery Clinic to schedule your cats next wellness examination with us today!
406-252-9499
MORE VETERINARY CAT SERVICES
ANIMAL CLINIC OF BILLINGS AND ANIMAL SURGERY CLINIC
providing our region's companion animals and their families what they need and deserve since 1981
1414 10th St. West, Billings MT 59102
406-252-9499