24 hour Emergency Cat Clinic
IF YOUR CAT HAS SUFFERED A SUDDEN TRAUMA,
OR
IS EXPERIENCING A LIFE THREATENING EMERGENCY,
PLEASE CALL US IMMEDIATELY!
 406-252-9499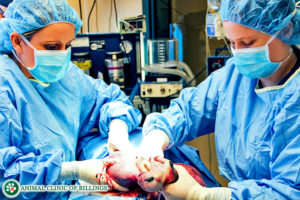 In a cat emergency, a swift response is essential. The Animal Clinic of Billings and Animal Surgery Clinic veterinarians provide emergency and urgent critical vet care services for your cat around the clock, seven days a week. Our veterinarians are here to help your cat and yourself through any life-threatening or emergency situation. Please don't hesitate to call us if you feel your cat is experiencing a medical emergency.
WHAT IF YOUR CAT IS FACING A MEDICAL EMERGENCY?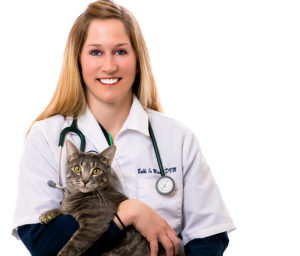 Waiting until regular operating hours is not an option in the case of cat emergencies such as a sudden trauma or when your cat is displaying life-threatening symptoms. 
Whatever the problem may be, our veterinarians and support staff have got you covered. The Animal Clinic of Billings and Animal Surgery Clinic is proud to provide the best veterinary care and emergency services available in and around the greater Billings area, and our veterinary surgeons offer surgical solutions and management options for treating practically any solvable medical condition.
If your dog or cat has suffered an accident or is experiencing life-threatening symptoms, please call us immediately. No matter what the incident, or at what time, if your dog or cat needs urgent medical attention from a veterinarian, the Animal Clinic of Billings and Animal Surgery Clinic are on standby to assist.
24 hour emergency veterinary hospital in Billings for cats and dogs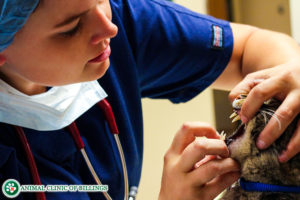 Although the Animal Clinic of Billings and Animal Surgery Clinic is a full-service 24-hour emergency veterinary hospital, a veterinarian is not always on site after regular business hours and may need to come meet you if the emergency calls for it. This is why it's imperative you call our answering service first before you leave.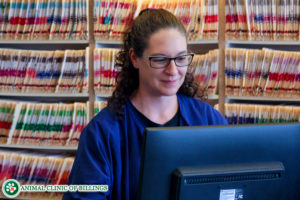 A brief call to explain what's happening will help our on-call veterinarian understand the type of emergency and establish if emergency medical attention is in-fact necessary.
Often, the situations aren't as bad as you might think and our convenient 24-hour answering service can many times save you a trip to our hospital in the middle of the night if urgent care isn't necessary. If our emergency veterinarian decides immediate medical attention is needed, the short phone call beforehand also allows us to start preparing the materials and veterinary assistants needed to complete the emergency procedure before you get to the hospital.

CAT EMERGENCIES NEED THE RIGHT VETERINARIAN
Cats are masters at hiding illness. You must note changes in your cat's behavior. For example, if your cat usually meets you at the door and wants to eat immediately, then suddenly stops greeting you or wanting to eat, this may be a serious sign of an immediate need for veterinary medical help. Although many illnesses can become severe and may be fatal if left untreated, not every circumstance warrants emergency care.
Our experienced veterinary team can increase the odds of recovery for your beloved feline friend, even in difficult cat emergency care situations.
---
Cat emergencies requiring urgent veterinary care:
Difficulty Breathing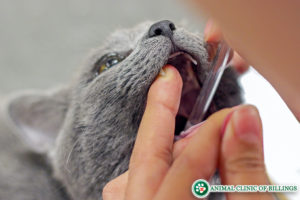 This is the most serious of non-trauma-induced injuries, because hypoxia (low oxygen levels) leads to respiratory arrest and possibly death, without swift emergency intervenation. When hypoxia is occurring, your cat is suffering and panicking. 
Difficulty breathing is an urgent emergency. It may happen slowly or acutely, but when you notice any of these symptoms, your cat is in trouble and needs immediate veterinary care. Symptoms include labored breathing (it looks like your cat's chest is moving faster and more pronounced, and emitting alarming noises, or puffing the lips. If you see of these any symptoms, seek emergency cat care immediately.
Urethral Obstruction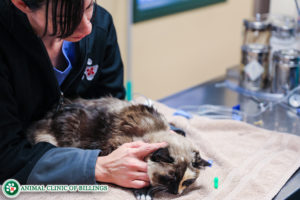 This is a blockage found in the urinary tube that leads from the bladder to the penis. When obstructed by small particles, your cat cannot urinate. This is painful and leads to metabolic changes which cause death quickly if the obstruction is not relieved. Urethral obstruction primarily affects male cats and may lead to bladder rupture, kidney damage, and cardiac arrest. 
Symptoms include straining to produce tiny amounts of urine, urinating outside of a litter box, vocalizing distress, and excessive grooming of the genitals. Female cats have urinary problems as well, but they are generally related to infections rather than blockages.
Hind-End Paralysis
If your cat's back legs are paralyzed and the cat is stressed, and in pain, it is an emergency. This condition is called aortic thromboembolism( ATE). This condition is a complication of heart disease that causes a blood clot to lodge in a large vessel of the hind legs. Symptoms include vocalizing pain, panting, and displaying severe physical distress based on the cat's inability to move his hindquarters. Aortic thromboembolism requires immediate emergency care.
No interest in food or water
You should be concerned if your cat shows little or no interest in eating or drinking. It is unusual for cats to go for extended periods without eating or drinking. Doing so may be a sign of severe illness such as diabetes complications, kidney failure, or intestinal obstructions. If your cat has not eaten or drank water for more than 24 hours, seek emergency care.
Diarrhea and/or Vomiting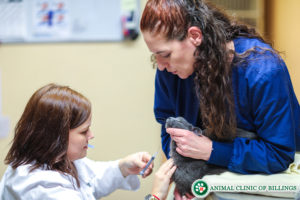 Most cats have soft stools occasionally, but if your cat vomits repeatedly or has violent diarrhea, please seek urgent care.
Ingestion of Toxins
If you see your cat ingesting toxic substances, it is crucial to get emergency cat care. Recovery rates are exponentially better when urgent emergency care is provided.
Seizures
A solitary seizure may not be life-threatening, but seizures also come in clusters and can be progressive. Seizures are caused by many circumstances, including eating toxic substances or medications. If your cat hasn't ever had a seizure and this is the first one you are aware of, and he or she is not under the care of a veterinarian for a seizure disorder, seek medical attention immediately. Seizures are a sign of very serious illnesses in cats.
Trauma
If your cat experiences a major trauma, such as a dog attack, a fall from great heights, or a fight with another cat, seek cat emergency care immediately. Cats hide symptoms of illness or injury even when they are suffering from internal trauma. Veterinarians can recognize signs of serious illness.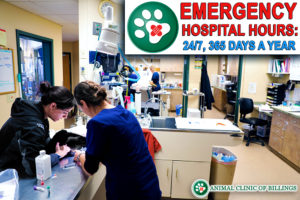 If you feel your cat is experiencing a life-threatening situation, please call us immediately, or, if it's during regular business hours, bring your cat directly to our clinic located at:
1414 10th St. West
Billings, MT 59102
406-252-9499
We take a proactive approach to protect the lives of loved ones and your feline companions. At the Animal Clinic of Billings and Animal Surgery Clinic, our veterinarians and support staff understand the stress and panic that occurs during a medical cat emergency, which is why we work diligently to receive and treat your cat as soon as possible.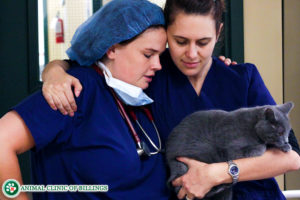 No appointment is required for cat emergencies or urgent care at the Animal Clinic of Billings and Animal Surgery Clinic. Our emergency veterinarians are trained to receive patients and stabilize them quickly. Our facility has state-of-the-art diagnostic and monitoring equipment as well as an advanced surgical suite, allowing us to provide your cat with the best possible emergency care when it matters most.
We accept cat emergencies at any time during our regular office hours. After hours emergencies are responded to by one of our trained emergency veterinarian who is on-call at all times. If possible, please call us ahead of time at 406-252-9499 so our team can be prepared to meet you and provide treatment.
TRANSPORTING YOUR CAT TO AN EMERGENCY CLINIC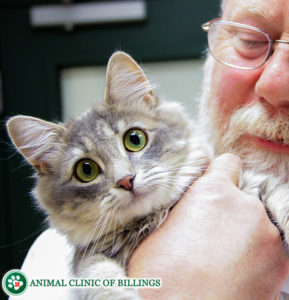 Although you have a special bond with your feline friend, during an illness or injury, a cat's instincts may result in aggression toward anyone attempting to handle him or her. If you have a cat emergency that requires transportation to an emergency cat hospital, please take the proper steps to ensure that your cat, as well as its human handlers, will not suffer from any subsequent injuries.
Tips for transporting your cat to an veterinary emergency care clinic:
To prevent biting, gently place a towel over your cat's head and slowly lift him or her into an open-topped carrier or box.

Support the cat's body weight, which should encourage relaxation.

Support your cat's head and take care not to twist his or her neck. This is particularly important in cases where the cat may have a potential spinal injury.
Once secured, immediately drive your cat to the emergency cat clinic or emergency veterinary hospital. Always call the veterinarian ahead before you leave to explain the emergency situation first.
FIRST AID TREATMENTS BEFORE VISITING AN EMERGENCY CAT CLINIC
Sometimes, first aid is necessary to stabilize your cat before transporting them to an emergency cat clinic. In addition, cat emergency care can be performed at home to stave off an emergency trip to a cat hospital.
First aid treatments include:
For external bleeding due to trauma, elevate the affected area, and apply direct pressure to the wound. Make a tourniquet to isolate the cats affected limb. Use a towel to apply pressure to the areas of your cat that are actively bleeding.

For choking emergencies, put your fingers in your cat's mouth and try to remove the blockage. Take care to not push the blockage farther back into the cats throat, and mind your fingers to ensure they do not get bitten.
If you cannot remove the object, you must perform a modified Heimlich maneuver by giving a sharp rap to your cat's chest. This should dislodge the object. To minimize the risk of injury in an actual emergency, we recommend you learn how to execute this maneuver beforehand. 
HOW TO PERFORM CPR ON YOUR CAT
CPR is an essential skill that every person should know how to administer. Emergencies are never planned or convenient. Time is of the essence, and employing simple life-saving techniques means the difference between life and death. Like humans, a cat's beating heart and working lungs are the two most critical body functions. If your cat can't breathe, or if he or she does not have a heartbeat, CPR is in order.
If a cat emergency such as this occurs, please take the following steps:
First, check your cat to see if it's breathing. If your cat is not breathing, place him or her on their side and begin artificial respiration by extending the head and neck, and hold the jaws closed and blow into the nostrils once every three seconds. Ensure no air is escaping between your mouth and the nose. If there is no heartbeat, incorporate cardiac massage while administering artificial respiration by applying three quick, firm chest compressions for every breath until your cat is breathing on his or her own.
Keep in mind that because each moment without oxygen results in a grim recovery prognosis, performing CPR on your cat can significantly increase the chances for a better recovery and an enhanced quality of life.
WHAT TO DO IF YOUR CAT EATS SOMETHING POISONOUS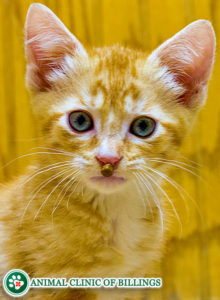 If your cat ingests a toxic substance, or if you suspect he or she has, seek emergency cat care immediately. Go directly to the veterinarian or emergency veterinary hospital. Bring the bottle of medication or poison your cat ingested whenever possible. Call the veterinary hospital on your way or beforehand if it's out of regular business hours and tell them what the cat swallowed or ate, how long ago it was eaten, and how much was ingested.
FINDING THE NEAREST EMERGENCY CAT CLINIC
If you don't have seconds to spare during an emergency, please bring your cat immediately to us or an emergency after-hours veterinary clinic. If the crisis isn't during regular business hours, please call our answering service before leaving at:
406-252-9499 
By calling us first, our emergency veterinarian can assess the severity of your emergency and get to the clinic faster to begin preparing for your arrival if the situation calls for immediate medical attention.
In all critical care emergencies, the most important thing is to get your cat to our veterinarian as soon as possible and let us handle the rest.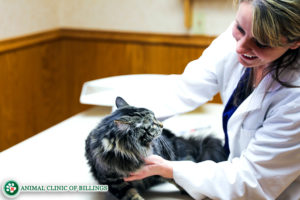 At the Animal Clinic of Billings, critical care and emergency medical services are available 24/7 throughout the holiday seasons and year-round. Please do not hesitate to call us if you feel your cat is experiencing a medical emergency. No matter what the incident, or at what time, if urgent care is required, the Animal Clinic and Animal Surgery Clinic of Billings will be on standby to assist.
406-252-9499
MORE VETERINARY CAT SERVICES
ANIMAL CLINIC OF BILLINGS AND ANIMAL SURGERY CLINIC
providing our region's companion animals and their families what they need and deserve since 1981
1414 10th St. West, Billings MT 59102
406-252-9499