Senior Dog Care
VETERINARY CARE RECOMMENDATIONS FOR GERIATRIC, AGING, OR OLDER DOGS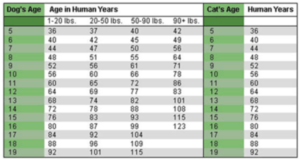 At the Animal Clinic of Billings and Animal Surgery Clinic, our veterinarians love to provide senior dogs with the best possible preventive vet care in order to age both gracefully and comfortably. If you have a senior dog that you've cared for all their life, then you understand how strong and tight our bonds with them become over the years. Caring for a senior dog is tremendously rewarding but also involves some challenges.
Our mission is to help you ensure your dog's senior years are as happy, healthy, and comfortable as possible.
Dog Years Compared To Human Years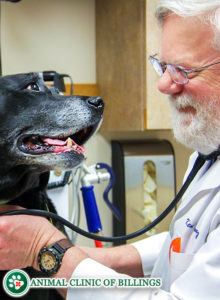 Dogs and cats both age about five to seven times faster than humans do. It should come as no surprise then that age-related health problems occur five to seven times earlier in a dog or cats life, and progress more rapidly, than they would in ours. For this reason, we strongly recommend you schedule regular senior wellness examinations with one of our veterinarians at least every six months for dogs older than seven years of age.
However, due to the accelerated rate with which some conditions can progress, you might want to consider scheduling wellness examinations even more frequently—every three months instead of six—if want to be as proactive as possible is detecting and treating age-related diseases. With more frequent visits with one of our veterinarians, we have a better chance of detecting an illness or health concern in its early stages, when treatment will be most effective.
In addition to recommended senior wellness exams every three to six months, blood work and urine tests are recommended every six to twelve months for senior dogs and cats.
As your dog ages, it's important to remember that many physiological changes are going to take place and your dog's physical appearance and sensory abilities will begin to change as well. These changes may be concerning, but sometimes these may simply be a naturally occurring part of the aging process.
These changes can include:
Reduced hearing or deafness
Diminished eyesight or loss of vision, especially in low light conditions
Muscle atrophy/decreased muscle mass
Cognitive dysfunction/dementia
Incontinence
Lumps/masses forming underneath the skin
Development of skin tags
Often, the symptoms listed above might be difficult to detect as they typically develop gradually. While some can be very serious, or a by-product of a much more serious condition, others might just be part of getting older. In cases where any of these signs reflect an underlying disease process, early detection is paramount to effectively combatting the progression of the condition and optimizing the quality of life of the patient.
This is why regular appointments with a veterinarian are so important for senior dogs. Our veterinarians at the Animal Clinic of Billings and Animal Surgery Clinic are skilled at detecting subtle changes occurring inside a dog's body that could otherwise go unnoticed at home, allowing for the earliest possible interventions to maximize a dog's quality of life and lifespan.
SCHEDULE REGULAR VETERINARIAN VISITS FOR SENIOR DOGS
When it comes to aging changes and age-related diseases, our doctors know exactly what to look for, so during your senior wellness exam the veterinarian will ask you questions specifically targeted towards identifying if any common age- related medical problems are present. Our veterinarians will work with you to develop the best plan for your senior dog's individualized medical needs to ensure he or she maintains an optimal level of health and happiness through this next stage of his or her life.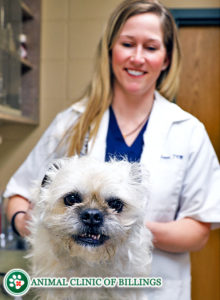 Additionally, during a full physical examination for aging or senior dogs, we will look over each of the following:
Mouth, gums, and teeth
Skin and coat
Eyes, ears, and nose
Thyroid gland
Heart and circulatory system
Lungs
Abdomen
Joints and Muscles
Weight and Body Condition
Any changes in physical condition since your dog's previous visit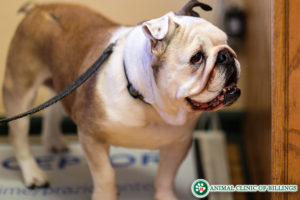 PHYSICAL EVALUATIONS FOR SENIOR DOGS
Physical evaluations are an integral component of senior dog care and health programs. Being obese or overweight is especially hard on a senior dog and will impact the quality of their life tremendously. Senior physical evaluations allow our veterinarians to determine if your senior dog is overweight, and if so, design a diet and feeding plan to meet your dog's individualized needs and get them back to ideal body weight.
Additionally, any unexplained reduction in weight or muscle atrophy could be a sign of illness. Our veterinarians can identify any underlying problems and their appropriate treatments, as well as teach you how to monitor your dog's health and physical condition at home and what symptoms, if any, to watch out for between vet visits.
WHAT'S THE BEST DOG FOOD FOR SENIOR DOGS?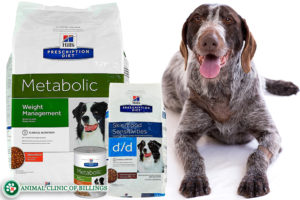 Every senior dog is different, and so are their nutritional needs as they age. As long as your senior dog is doing well on its current diet, then you may not need to change anything. However, it is not unusual for older dogs to develop health problems that could greatly benefit from special diets tailored to address these conditions.
Additionally, most senior dogs will have decreased caloric requirements as their metabolism slows, while their requirements for protein may increase as the efficiency of protein digestion and absorption decreases. Most senior diets are designed to accommodate this change in nutrient requirements by reducing the carbohydrate and fat content while increasing the amount of high quality protein.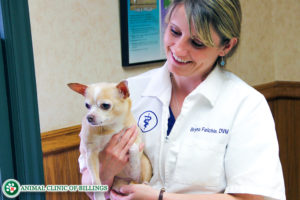 It is essential to consult your veterinarian about the best senior dog food option for your canine companion. Specially formulated senior dog foods, like the kinds our veterinarians can provide at the Animal Clinic of Billings and Animal Surgery Clinic, are more nutritious and easier on a dog's digestive system than traditional store-bought dog foods, and even serve to address specific medical conditions such as kidney, liver and urinary problems.
DENTAL CARE FOR SENIOR DOGS
Dental and periodontal diseases are especially common in senior dogs because they progress gradually throughout life, and can easily go unnoticed by an owner. Often the significant discomfort associated with these conditions can be difficult to detect because dogs instinctively conceal even severe pain.
HOW MUCH SHOULD I EXERCISE MY SENIOR DOG?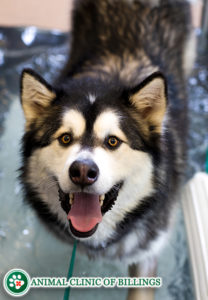 Even though your senior dog likely can no longer run or jump like they used to, exercise is still very important to their health and wellbeing. Daily exercise helps to promote healthy aging, both physical and mental.
It is generally best to keep to a consistent schedule of daily low to moderate intensity activities appropriate to your pet's level of physical fitness.
Exercise will also help to do the following for your senior dog:
Maintain a healthy body weight
Stimulate cognitive function and capacity
Improve/maintain motor skills and coordination
Slow the progression of arthritis
Before starting your senior dog on an exercise regimen, ask your veterinarian about the most appropriate and effective exercise routine for your dog based their current level of fitness and the presence of any physical limitations.
DO SENIOR DOGS NEED VACCINES?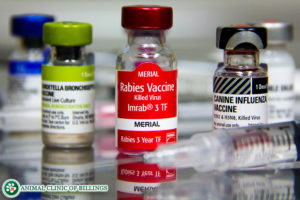 Yes. Our veterinarians evaluate each dog individually to determine their ideal vaccine schedule. Maintaining vaccine protection is especially important for older dogs as their immune systems weaken with age, leaving them more susceptible to contracting diseases.
HOW ARE PARASITES CONTROLLED IN SENIOR DOGS?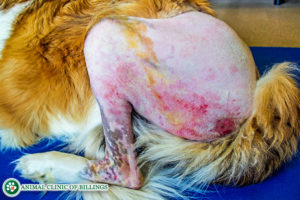 Senior dogs are every bit as vulnerable as any other dog to contracting parasites. Consequently, it is imperative to stay current on flea, tick, and intestinal parasite control medications. One of our veterinarians will determine what your dog needs and how often they need it to maintain effective parasite control.
WHAT SHOULD I DO IF MY DOG HAS ARTHRITIS?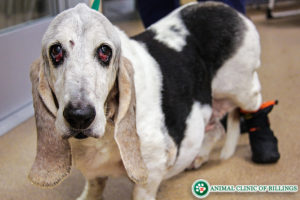 If you have noticed your dog is beginning to slow down or is demonstrating difficulty in standing up and moving around, it may be a sign that degenerative joint disease is present. Osteoarthritis is a degenerative joint disease that affects dogs and cats much like it does humans.
It is estimated that as many as one in five dogs in the United States suffer from arthritis. Dogs with arthritis may exhibit very subtle signs initially, which will become progressively more obvious over time. The earlier in the disease process that treatment can be instituted, the better the prognosis for preserving and improving joint health, mobility, and comfort. Recognizing the symptoms of arthritis may not always be easy for pet owners, but our highly skilled and experienced veterinarians and technicians are here to help.
HOW CAN I TELL IF MY DOG HAS ARTHRITIS?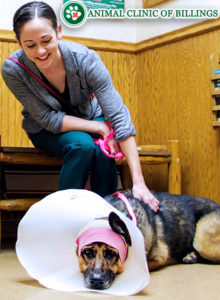 There are a number of common signs to look for that suggest arthritis may be present. Call your veterinarian if you notice your dog exhibiting any of the following symptoms:
Slowing down on walks
Whining
Trouble standing up, or difficulty rising into a standing position
Difficulty jumping in the car or onto furniture
Excessive panting (in dogs)
Reluctance to get up/spending more time lying down
Aggression
Inappropriate urination and defecation
Restlessness or pacing
Insomnia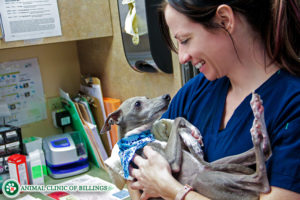 Arthritis is a painful and potentially debilitating condition for any animal.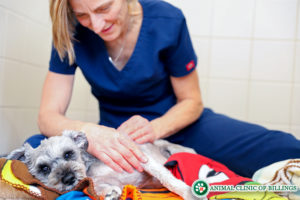 At the Animal Clinic of Billings and Animal Surgery Clinic, in addition to a variety of pharmaceuticals and nutraceuticals, we offer regenerative stem cell therapy, platelet-rich plasma joint injections, class IV laser therapy, underwater treadmill exercise programs, and many more cutting-edge forms of orthopedic management for degenerative joint disease/osteoarthritis in dogs and cats.
If we identify symptoms of arthritis in your dog, one of our veterinarians will work with you to develop the best treatment plan to meet the individualized needs of your dog.
HOW DO DOGS GET ARTHRITIS?
Arthritis occurs when the cartilage covering the surface of a dog's bones begins to break down and no longer provides a protective membrane to the bone. This results in pain and swelling of the joint. Primary arthritis happens over time, adding greater wear and tear as it progresses on the otherwise healthy joint. Secondary arthritis results from orthopedic injuries, conformational problems, or congenital disabilities. Both forms of arthritis most commonly affect middle-aged and senior dogs.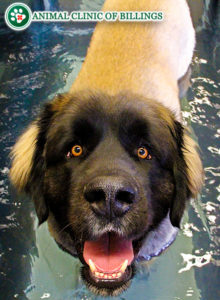 Conditions that cause secondary arthritis include:
IVDD or degenerative disk disease
Medial patella luxation
Hip dysplasia
Cranial cruciate ligament (CCL, CrCL, or ACL) injuries
Elbow dysplasia
Obesity
How Is Arthritis Treated In Dogs?
At the Animal Clinic of Billings, we tailor arthritis treatment to each patient individually to meet their specific needs. A multi-modal approach will typically produce the best results, which is why we provide multiple treatment options for arthritis and osteoarthritis patients.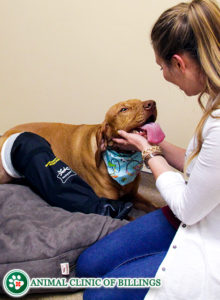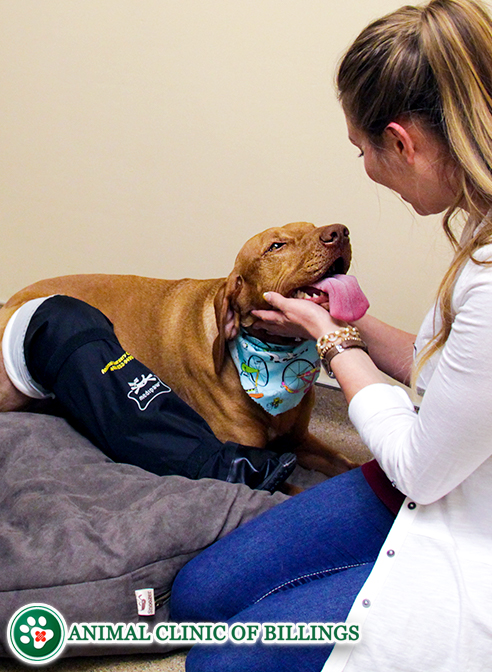 These include:
Regenerative Stem Cell Therapy
Platelet-Rich Plasma Injections (PRP)
Orthopedic Surgery
Physical rehabilitation therapy
Non-steroidal anti-inflammatory drugs (NSAIDS)
Other pharmaceutical and nutraceutical agents
Class IV laser therapy
Injectable disease-modifying osteoarthritis drugs
Diets specially formulated for joint health
Underwater treadmill (hydrotherapy)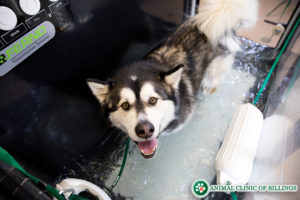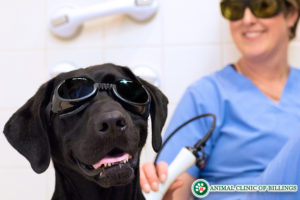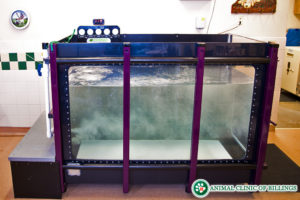 REGULAR VET VISITS AND EARLY DETECTION COULD SAVE YOUR DOGS LIFE!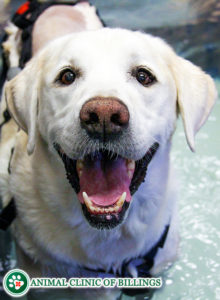 Unfortunately, as dogs get older, their risk of developing cancer increases. Fortunately there have been many advancements in veterinary medicine that enable dogs with a cancer diagnosis to live longer and fuller lives than ever before. Still, regular health care visits with your veterinarian are imperative as early detection is key to the most effective treatment.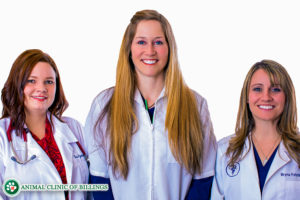 If you would like to schedule a senior wellness exam for your dog or cat and discuss the arthritis treatment options available, or learn more about our senior care packages and nutrition counseling, please give us a call during our convenient daytime hours. 
Call today!
406-252-9499
MORE DOG VETERINARY SERVICES
ANIMAL CLINIC OF BILLINGS AND ANIMAL SURGERY CLINIC
providing our region's companion animals and their families what they need and deserve since 1981
1414 10th St. West, Billings MT 59102
406-252-9499