Veterinary Services for Dogs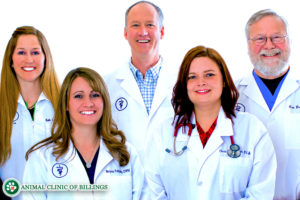 Dog veterinarians who really care
At the Animal Clinic of Billings and Animal Surgery Clinic, our approach to canine veterinary medicine revolves around competently and compassionately ensuring the highest quality of veterinary care for your dog.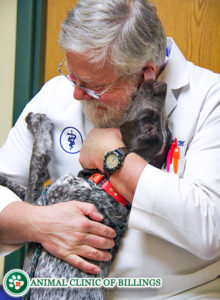 Over the 38 years the Animal Clinic of Billings has been in business, we believe our greatest measure of success is reflected by the volume of kind words we regularly receive from our clients. The long-term relationships we've built with our clients over the last 38 years are extremely valuable to us, and we strongly believe that establishing a foundation of excellent communication and trust with every client is imperative for our veterinarians to be able to provide the best possible veterinary care for each of our dog patients.
Our approach to canine veterinary medicine and care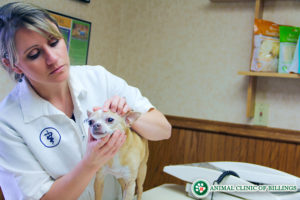 We believe a veterinarian's worth is defined not only by their ability to properly identify, prevent, and treat illnesses and medical conditions, but also by their empathy and communication skills. An essential component of our veterinary team's relationship with each of our clients is the ability to effectively educate pet parents about their pets' health conditions and how to take the best possible care of their pets.
This is why our veterinarians at the Animal Clinic of Billings and Animal Surgery Clinic offer 24-hour emergency vet care and surgery for dogs and cats in Billings. If anyone should ever experience a medical emergency in the middle of the night that can't wait until morning, our veterinarians are on-call 24 hours a day and here to help you and your dog through any emergency.
A healthy dog starts with nutrition and the right dog food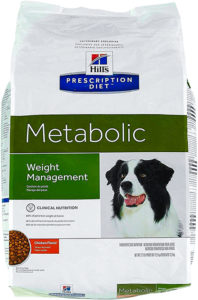 At the Animal Clinic of Billings and Animal Surgery Clinic, our veterinarians cannot emphasize enough the importance of proper diet and nutrition during each stage of your dog's life. Whether they are a puppy, an adult, or a senior, as they pass through each life stage their nutritional requirements will change.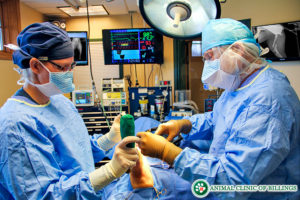 Proper canine nutrition provides your dog with the right amounts of all of the specific nutrients they need to reach their full potential for growth, health, physical activity, and longevity. These days, there are countless brands of dog food to choose from, as well as many alternative feeding options. The majority of us use store-bought dry and canned dog food because it's easy to get and relatively inexpensive. However, did you know there are far better dog foods available than what most stores have to offer?
At The Animal Clinic of Billings, we have spent decades educating pet owners about nutrition for dogs of every size, age, medical condition, lifestyle, and nutritional need. Many of our clients are surprised to learn how important canine nutrition is to the quality of your dog's life. We would love to help develop specific dietary recommendations to meet the individual needs of your dog. If you're unsure of your dog's specific nutritional requirements or which dog food will allow them to live the longest and healthiest life possible, please call us to schedule an appointment with one of our veterinarians today!
406-252-9499
DOG SURGERY OPTIONS WHEN NECESSARY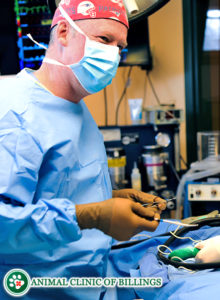 Many dogs and cats will need surgery at least once in their lifetime. As caring pet owners, we want our canine and feline companions to receive the best veterinary surgical care possible in a safe, comfortable environment. The Animal Surgery Clinic of Billings understands these concerns. Our facility features a state-of-the-art modern surgical suite, and our doctors perform all types of surgical procedures with top-of-the-line anesthetic monitoring equipment to ensure our patients' safety and comfort throughout their surgical procedure.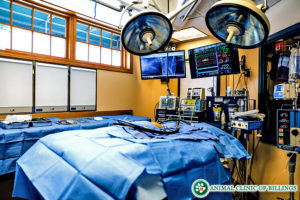 At the Animal Clinic of Billings and Animal Surgery Clinic, we understand how frightening a recommendation for surgery on your dog can be. This isn't something our veterinarians take lightly. If surgery is recommended for your dog by one of our veterinarians, you can rest assured that we have gathered all the information needed to reach that conclusion with the highest level of confidence possible. Every surgical case our veterinarians manage is always thoroughly evaluated with diagnostic testing and imaging first to ensure that surgery is, in fact, necessary and in the best interest of your dog.
Additionally, if your dog is receiving surgery at our veterinary hospital, then it's being performed by one of our highly talented, competent, and experienced veterinary surgeons.
ADVANCED ORTHOPEDIC AND SPINE SURGERY FOR DOGS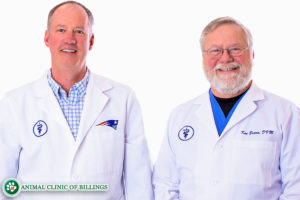 Doctors Brown and Sherburne have more than 65 years of combined veterinary practice experience and have successfully managed thousands of complex orthopedic injuries.
Drs. Brown and Sherburne provide arthroscopic joint surgery, advanced ACL/CrCL procedures including TPLO and TTA, partial and complete joint fusions, elbow dysplasia surgeries including PAUL and CUE, total hip replacements, and advanced limb straightening procedures in addition to many other advanced forms of spinal surgery, knee surgery, shoulder surgery, pelvic fracture surgery, bone grafting, and torn or ruptured ligament repair procedures on dogs and cats at the Animal Clinic of Billings and Animal Surgery Clinic in Billings Montana.
Veterinary Services
Among the thousands of canine veterinary services the Animal Clinic of Billings and Animal Surgery Clinic provides for dogs of all ages, breeds, and circumstances, some of the more common and generalized dog services we offer include:
HOW TO SCHEDULE YOUR DOG'S NEXT VETERINARY APPOINTMENT WITH US
We strive to make scheduling an appointment with one of our veterinarians as enjoyable and easy as possible for both you and your canine companion. All it takes is picking up the phone, sending us a short email here on our CONTACT PAGE, or click the "REQUEST AN APPOINTMENT", button below to view our availability online. Our veterinarians and support staff are here to help you and your dog in any way that we can. Call us today!
406-252-9499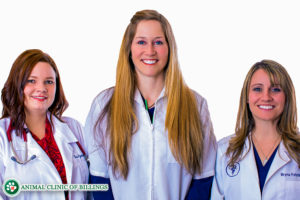 Let our highly trained and experienced team of veterinarians and veterinary technicians help you keep your dog as happy and healthy as they can be.
Call and schedule an appointment for your four-legged friend today and receive a 20% discount on canine rehabilitation treatment for your dog.
406-252-9499
MORE DOG VETERINARY SERVICES
ANIMAL CLINIC OF BILLINGS AND ANIMAL SURGERY CLINIC
providing our region's companion animals and their families what they need and deserve since 1981
1414 10th St. West, Billings MT 59102
406-252-9499