24 Hour Emergency Care
IF YOUR DOG OR CAT IS EXPERIENCING
A LIFE-THREATENING MEDICAL EMERGENCY,

PLEASE CALL US IMMEDIATELY!
 406-252-9499
At the Animal Clinic of Billings, our veterinarians provide 24-hour emergency veterinary care services for your dog or cat 24-hours a day, seven days a week, and 365 days of the year to help you and your feline or canine companion through any medical emergency that may occur.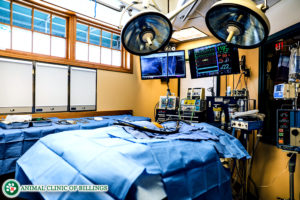 At the Animal Clinic of Billings and Animal Surgery Clinic, we have state-of-the-art diagnostic imaging and monitoring equipment as well as a modern surgical suite, allowing us to provide your dog or cat with the best possible emergency care, and if necessary, surgical care when it matters most.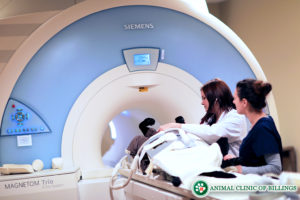 Whatever the problem may be, our veterinarians and support staff have got you covered. The Animal Clinic of Billings and Animal Surgery Clinic is proud to provide the best veterinary care and emergency services available in and around the greater Billings area, and our veterinary surgeons offer surgical solutions and management options for treating practically any solvable medical condition.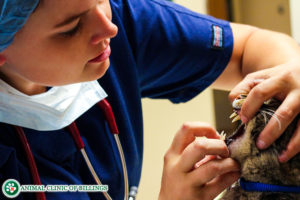 If your dog or cat has suffered an accident or is experiencing life-threatening symptoms, please call us immediately. No matter what the incident, or at what time, if your dog or cat needs urgent medical attention from a veterinarian, the Animal Clinic of Billings and Animal Surgery Clinic are on standby to assist.
406-252-9499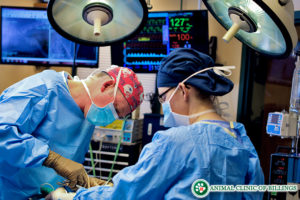 Although the Animal Clinic of Billings and Animal Surgery Clinic is a full-service 24-hour emergency veterinary hospital, a veterinarian is not always on site after regular business hours and may need to come meet you if the emergency calls for it. This is why it's imperative you call our answering service first before you leave.
406-252-9499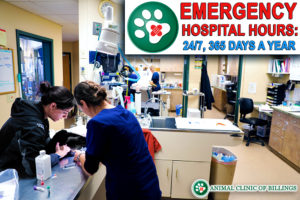 A brief call to explain what's happening will help our on-call veterinarian understand the type of emergency and establish if emergency medical attention is in-fact necessary.
Often, the situations aren't as bad as you might think and our convenient 24-hour answering service can many times save you a trip to our hospital in the middle of the night if urgent care isn't necessary. If our emergency veterinarian decides immediate medical attention is needed, the short phone call beforehand also allows us to start preparing the materials and veterinary assistants needed to complete the emergency procedure before you get to the hospital.
WHEN TO SEEK EMERGENCY VETERINARY CARE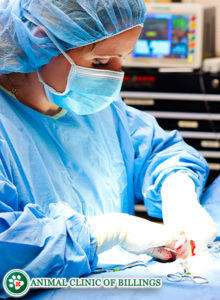 The most straightforward answer as to whether you should seek emergency vet care for your dog or cat is if you feel his or her medical condition is so severe that it can't wait until tomorrow. However, the following emergencies should help you determine if you need to seek out emergency care for your pet.
Medical Emergencies that Require Immediate Veterinary Care
Difficulty breathing
Acute abdominal swelling
Electric shock
Abnormal vomiting or diarrhea
Abnormal bleeding
Exhibits symptoms of heat stroke
Seizures
Collapse
Punctures, cuts and bite wounds
High or low temperature (more than 104 or less than 100 degrees)
Unable to urinate or defecate
WHAT TO DO IF YOUR DOG OR CAT IS EXPERIENCING A MEDICAL EMERGENCY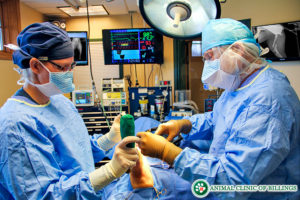 There are times when you are certain your dog or cat needs immediate emergency care (i.e., being hit by a car). Then there are times when you are very concerned but are uncertain if your dog requires immediate veterinary medical attention. If you're unsure how severe your dog's condition might be, and it's during regular business hours, we recommend you bring them straight to our emergency clinic. If it's not during regular business hours, please call our answering service immediately for instructions on what to do.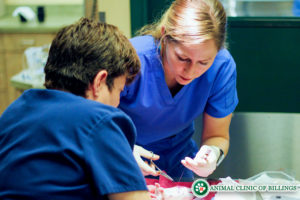 Emergencies are never convenient and often lead caring pet owners to feel overwhelming panic and concern. At the Animal Clinic of Billings and Animal Surgery Clinic, our emergency veterinarians get that and have all been there ourselves, which is why we offer 24-hour emergency vet care to our Billings area residents and work diligently to receive and treat your dog as soon as possible.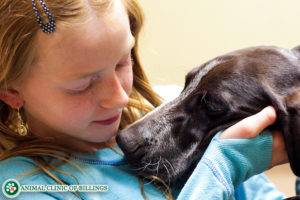 During a medical emergency, do everything you possibly can to remain calm. If you have the option of bringing another person with you, bring them so one person can drive and the other person can hold the dog.
We understand that emergencies are very stressful, but you might be surprised by how much your dog can be soothed and relaxed just by your own ability to stay calm and speak in a calming tone.
---
EMERGENCY SERVICES WE OFFER ON CATS AND DOGS
We couldn't possibly list of of them but here are a few of the more common emergency services we offer at the Animal Clinic of Billings and Animal Surgery Clinic:
Emergency Surgery
Treatment of Toxicities
Rattlesnake Anti-Venin Therapy
Digital Radiography
Ultrasound
Trauma
In-Hospital Blood Testing
Supportive Care
Basic First Aid
24-Hour Patient Monitoring
Supplemental Oxygen
Telemetry
Complete In-House Stat Laboratory
Abdominal Ultrasonography-Abdominocentesis and Cystocentesis
Thoracic Ultrasonography-Thoracocentesis and Pericardiocentesis
Transfusion Therapy – Blood, Plasma, Albumin
Respiratory and Oxygen Therapy
Comprehensive Pain Management
Advanced Anesthetic Monitoring
Continuous Monitoring by Expert Staff
Advanced Vascular Access
Resuscitation and Hemodynamic Optimization
Parental and Enteral Nutritional Support
Post-Trauma Care
Postoperative Care
Specialized Emergency and Critical Care Technicians
---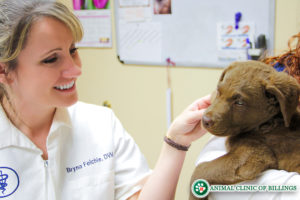 At the Animal Clinic of Billings, critical care and emergency medical services are available 24/7 throughout the holiday seasons and year-round. Please do not hesitate to call us if you feel your pet is experiencing a medical emergency. No matter what the incident, or at what time, if urgent care is required, the Animal Clinic and Animal Surgery Clinic of Billings will be on standby to assist.
406-252-9499
MORE VETERINARY SERVICES
ANIMAL CLINIC OF BILLINGS AND ANIMAL SURGERY CLINIC
providing our region's companion animals and their families what they need and deserve since 1981
1414 10th St. West, Billings MT 59102
406-252-9499