Grooming and Boarding
GROOMING
The Animal Clinic of Billings offers professional pet grooming services as well as medicated baths for patients with specific dermatologic needs. Our goals are to make sure your pet looks his/her best, and also to improve their coat and skin health. We are very attentive to the specific needs of our patients and their owners' concerns, and we customize our grooming services accordingly.
A professional grooming session at the Animal Clinic of Billings typically consists of the dog being brushed, bathed and dried, as well as trimmed or clipped. Our on-site professional groomer, Donna Rae Alexander, brushes and combs out mats before the bathing, making it easier to lather the dog with shampoo.
Additionally, we clean the dog's ears to remove buildup and to check for signs of infection. When the dog's coat has dried, he or she will be trimmed, clipped, or shaved, if needed or requested. We will also cut your dog's nails to a comfortable length, as long nails can become painful for a dog, especially when he or she is walking, in addition to brushing your dog's teeth with a dog-specific toothpaste as well.
Dog and Cat GROOMING SERVICES
Bathing (using only use hypoallergenic and soap-free shampoos)*
Brushing and de-matting
Medicated baths (customized for your pet's skin condition)
Sanitary clips
Nail trimming
Anal gland expression
Ear flushing
*Eyes are always lubricated before baths to prevent shampoo from getting into your pet's eyes.*
BENEFITS OF PROFESSIONAL Dog and Cat GROOMING
Having your pet groomed on a regular basis can provide many health benefits and keeps your pet looking and smelling great. It allows for early detection of skin diseases, ear infections, and external parasites. The sooner an issue is discovered, the sooner it can be treated. Our groomer will immediately notify one of our doctors if a problem is suspected. Professional pet grooming is also important in helping prevent skin infections and painful hair matting. The benefits of regular brushing and nail trimming are detailed below:
Brushing:
Brushing can remove dead hairs, dandruff, and debris and stimulate the natural oils in the hair, resulting in a smooth, healthy, shiny coat. It can also prevent your dog's coat from getting matted and your cat from getting hair balls.
Nail Trimming:
Regular nail trimming can help reinforce healthy foot structure and prevent nail injury and curling, which can lead to infection. Long, unkempt nails not only look unattractive, but over time they can do serious damage to your dog (not to mention your floors). When nails are so long that they constantly touch the ground, they exert force back into the nail bed, creating pain for the dog (imagine wearing a too-tight shoe) and pressure on the toe joint. Long term, this can actually realign the joints of the foreleg and cause the foot to become flattened and splayed.
Again, this isn't just an aesthetic problem, it's a functional one: Compromising your dog's weight distribution and natural alignment can leave him or her more susceptible to injuries, and make walking and running difficult and painful. This is especially important in older dogs, whose posture can be dramatically improved by cutting back neglected nails. In extreme cases, overgrown nails can curve and grow into the pad of the foot. But even if they are not that out of control, long nails can get torn or split, which is very painful and, depending on severity, may need to be treated by a veterinarian. In the end, unattended nails create a vicious cycle: The extra-long nails make any contact with your dogs paws painful. Therefore, he or she avoids having them touched which leads to unpleasant nail-cutting sessions and ultimately more pain …
HOW OFTEN SHOULD I HAVE MY DOG GROOMED?
Although it depends mostly on the breed, hair length, and type of coat, regular grooming should be done about once a month. For young puppies and dogs who have never been groomed, more frequent grooming or brushing at home should be done to get the dog used to being handled and to avoid grooming issues into adulthood. This process is known as desensitization or conditioning.
WHY USE A PROFESSIONAL GROOMER?
1. We Have the Right Tools: 
You certainly don't want to use your own scissors and electric razors to groom your pet. At the Animal Clinic of Billings, we have all the right tools to get your pet looking his or her best, from different kinds of clippers to an adjustable grooming table and so forth. We are already equipped with the best shampoos for dogs and cats with skin allergies, irritations, fleas and ticks, or for pets that got sprayed by a skunk and know which ones will best suit your dog or cats needs.
2. We Fit Your Schedule: 
We make it easy to drop off your dog or cat and pick him or her up later at your convenience.
3. We Know How to Handle Animals: 
Dogs and cats that are older or become anxious or aggressive when you try to groom them may need to be sedated while being groomed – something that can't be done at home, but our veterinarians can do. When handling your animal, our experienced and knowledgeable staff may also notice a concerning injury or lump that you may not have noticed or know how to diagnose. Additionally, if you yourself have a condition such as back pain or arthritis, rest assured that the Animal Clinic of Billings' professional grooming services will prevent you from having to do excessive lifting and handling of your dog.
4. We Take Care of the Yucky Stuff: 
Cleaning anal glands, shampooing a muddy or skunked dog, and removing fleas and ticks are not the most pleasant things to take care of, but come with the price of owning a dog. Our professional groomer and grooming assistants at the Animal Clinic of Billings knows how to take care of and clean all of these seemingly yucky things, and more. Believe us when we say that we've got you covered.

MEET OUR GROOMER
Donna Rae Alexander – Professional Groomer
Donna Rae is the Animal Clinic of Billings' version of "Sunshine Cleaning Company." 
Sheep Dog sprayed by a skunk? No problem. Scruffy Pomeranian needs a good grooming? Donna Rae's on it. Labrador rolls in an unknown mass of smelliness? She's got it handled. Joining the Animal Clinic in 2014, Donna Rae's skills also include managing the clinic's lively kennel. Donna Rea loves being surrounded by animals all day. She is an advocate of regular professional dog grooming because of the benefits to both pet owners and their furry friends.
Regular grooming maintains a healthy coat and skin. Regular nail trims not only keep the nails short and reinforce healthy foot structure and posture but it also greatly reduces the risk of an assortment of infections that can occur. Plus, a shiny, healthy, and properly brushed coat sheds less and what's not to love when your pet looks and smells great. Most importantly regular professional grooming may result in early detection of issues with ears, skin, teeth and more, so there are very real health benefits to professionally pampering your pet on a regular basis.
After providing professional grooming sessions to six-to-eight pets a day, Donna Rae returns to her own household, which is filled with dogs, including two German Shepherds, a Lhasa Apso, a Yorkie, a Westie, and a Dachshund. These pooches are all rescue dogs and they are lucky to share Donna Rae's 'forever home'.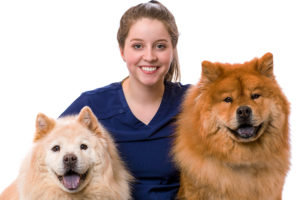 Looking to improve your dog or cats coat and skin health?
Schedule a grooming appointment at the Animal Clinic of Billings Tuesday through Saturday to make your furry friend shine!
Ask us about our monthly specials and discounts on our grooming services too!
Call 406-252-9499 to schedule your pet's spa day today!
---
BOARDING
If you're like us, then you prefer to take your best buddies with you whenever you can. Sometimes it just can't be done and you need to find a place you can trust to look after your friends. We have excellent boarding facilities at the Animal Clinic of Billings with large runs for bigger dogs and spacious crates for smaller dogs and cats. Everyone gets a comfy blanket and plenty of water and we even encourage you to bring a blanket from home if you'd like to make their stay more comfortable. All of our boarding dogs get taken out three times a day to stretch their legs and have some human contact time. Our technicians and veterinarians are constantly monitoring our boarding guests to ensure they stay happy and healthy during their stay.
We can feed your dog or cat from our hospital supplies but we're happy to feed them food that you supply us with, maybe even a favorite treat to remind them of home. We can also give your friends any medications they need while they are staying with us. If you like, before they check out, we can give them a bath for you too so they are in tip-top shape when you are reunited with them.
BOARDING SERVICES WE OFFER
Cat Condominium Boarding – Quiet and Comfortable
Dog Boarding
Doggie Day Care
Every boarding patient is admitted by a member of our staff who will review your pet's daily routine and current health status with you to guarantee optimal care while you are away. Your pet will receive the highest quality diet, warm, comfortable bedding and individual attention by our staff. We also offer additional services such as extra playtime and daily brushing of the coat and teeth.
We provide specialized boarding programs for patients with extra needs, such as senior pets, puppies and kittens. In addition, we offer medical boarding services for any pet with a health condition that requires a higher level of specialty care, including physical rehabilitation therapy on our underwater treadmill and laser therapy treatments.
Every patient in our boarding center is assigned a technician who reviews his/her health status daily to ensure he/she is thriving while in our care. For clients who would like updates throughout their pet's stay, we are happy to call, email or text to let you know how your pet is doing. We can accommodate boarding stays for any duration at the Animal Clinic of Billings and we offer dog and cat runs of all sizes from large to small.
If you need to find a place for your dog or cat to stay for a few days or however long, let us take care of your furry friend while your away. Call us anytime for your boarding and grooming needs! 406-252-9499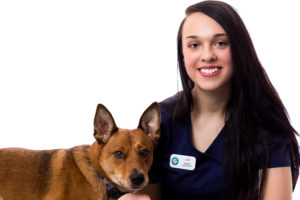 Let our highly trained and experienced team of veterinarians and veterinary technicians help you keep your pet as happy and healthy as they can be.
Call the Animal Clinic of Billings to schedule a bath or grooming appointment with us for your dog or cat today!
406-252-9499
MORE VETERINARY SERVICES
ANIMAL CLINIC OF BILLINGS AND ANIMAL SURGERY CLINIC
providing our region's companion animals and their families what they need and deserve since 1981
1414 10th St. West, Billings MT 59102
406-252-9499