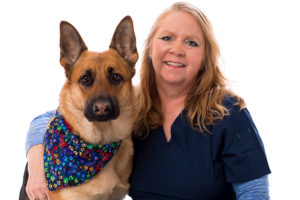 Donna Rae Alexander – Professional Groomer
Donna Rae is the Animal Clinic of Billings' version of "Sunshine Cleaning Company." 
Sheep Dog sprayed by a skunk? No problem. Scruffy Pomeranian needs a good grooming? Donna Rae's on it. Labrador rolls in an unknown mass of smelliness? She's got it handled. Joining the Animal Clinic in 2014, Donna Rae's skills also include managing the clinic's lively kennel.
Donna Rea loves being surrounded by animals all day. She is an advocate of regular professional dog grooming because of the benefits to both pet owners and their furry friends. Regular grooming maintains a healthy coat and skin. Regular nail trims not keep the nails short and reinforce healthy foot structure and posture and reduces the risk of infection. Plus, a shiny, healthy, and properly brushed coat sheds less and You pet looks and smells great. Most importantly regular professional grooming may result in early detection of issues with ears, skin, teeth and more.
After providing professional grooming sessions to six-to-eight pets a day, Donna Rae returns to her own household, which is filled with dogs, including two German Shepherds, a Lhasa Apso, a Yorkie, a Westie, and a Dachshund. These pooches are all rescue dogs and they are lucky to share Donna Rae's 'forever home'.
Education/Training:
Montana Professional School of Dog Grooming Graduate, 2014
Training:
Continuing Education – Grooming Techniques, Billings 2015
Continuing Education – Royal Canin Canine Nutrition, Bozeman, 2016