Bryna Felchle, DVM
Associate Veterinarian at the Animal Clinic of Billings since 2012
Current Accredited Veterinarian (USDA) through the National Veterinary Accreditation Program (NVAP)
Active Member of the Montana Veterinary Medical Association (MVMA), the South Dakota Veterinary Medical Association (SDVMA), and the American Veterinary Medical Association (AVMA)
Active Member of the Society of Theriogenology (SFT)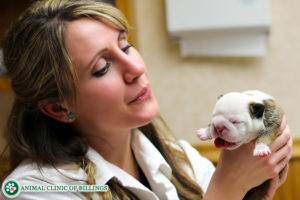 Bryna Felchle is a native Montanan that grew up on a small ranch outside of the Billings area. Prior to becoming a veterinarian, Dr. Felchle was a horse wrangler and guide at a guest ranch in high school and worked for many years as a veterinary assistant. She has a bachelor's degree in animal science from MSU Bozeman and a Doctorate of Veterinary Medicine from Washington State University. While at MSU Bozeman, Dr. Felchle served as an ag ambassador, traveling the state to promote agricultural education.
Dr. Felchle has a strong love for the Montana outdoors with roots in agriculture and ranching. She continues to raise horses and cattle of her own and has pets that vary from dogs and cats, to a bearded dragon and beta fish.
When she is not working, Dr. Felchle enjoys spending time with her three children, cheering for them on the court or in the rodeo arena and taking them horseback riding, hiking, camping, and fishing.
Dr. Felchle's special interests in Veterinary Medicine include:
Theriogenology
Internal Medicine
Neurology
Alternative/Regenerative Medicine
Soft Tissue Surgery
Preventative Care
Animal Behavior
Nutrition
Client Education
Additional Training:
Adipose derived Stem Cell procedures (collection, processing, and application) since 2015
Abdominal Ultrasonography
Canine/Feline Dentistry Procedures
Fracture Repair and Management
Trichomoniasis Testing
Beef Quality Assurance
"Keeping my patients healthy, being able to provide standard of care medicine and surgery, and educating clients is what I am most passionate about. The human-animal bond is real; I feel blessed to be a part of this journey with each of our patients and clients. I have a strong interest and passion for teaching children about the field of Veterinary Medicine as well as mentoring prospective/current veterinary students."
                                                                                   – Dr. Bryna Felchle