February is National Pet Dental Health Month
Give your pets something to smile about.
Schedule today for discounted dental services! 
Dental disease is the most common health problem for pets. By age three, approximately 80% of dogs and 75% of cats have some degree of periodontal disease.
If left untreated periodontal disease can lead to tooth decay or tooth loss. In addition dental disease can result in the showering of bacteria throughout the body. This situation may eventually cause kidney, liver or heart disease.
Let us help maintain your furry friend's health and happiness.
Schedule a dental appointment today!  Call (406) 252-9499 or contact us online.
---

1. Share Your Pet's Healthy Smile
A healthy, happy pet makes everyone smile. Submit a picture of your own pet's smile for the world to see and you'll be entered in a drawing for a free bag of Hills vet recommended dental food.  
2. How often should your pet have a dental cleaning?
Dogs and cats should have a veterinary dental cleaning annually starting at age two, or sooner if they have some other oral health problem identified earlier.  
3.
 

Bad breath means a big problem.

Bad breath is a sign of disease.  Often it may mean that oral disease is present in your pet's mouth, not that their teeth are just dirty. Bad breath is often an indication of periodontal disease which lurks beneath the gums and can eat away at bone, oral tissue and tooth structure. Severe periodontal disease can also affect other organs, such as heart, liver and kidneys, as the disease progresses.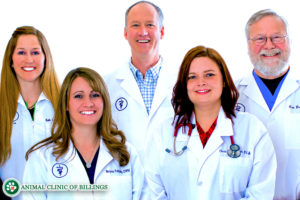 Let our highly trained and experienced team of veterinarians and veterinary technicians help you keep your dog as happy and healthy as they can be.
Call the Animal Clinic of Billings to schedule your dogs next wellness examination with us today!
406-252-9499   REQUEST AN APPOINTMENT