Physical Rehabilitation and Laser Therapy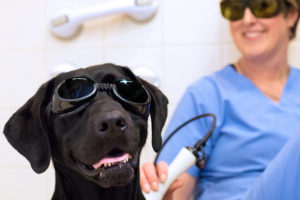 PHYSICAL REHABILITATION THERAPY
Physical rehabilitation utilizes therapeutic exercise and a variety of other methods to improve function and promote healing. It helps to decrease pain, improve cardiovascular fitness, increase joint mobility, muscle strength and endurance.
Companion animals, like their humans, often require physical rehabilitation to recover the ability to walk, regain the use of a limb, and to promote overall well-being after a serious injury or major orthopedic or spinal surgery.
Those of us who have experienced an injury or surgery know how beneficial physical therapy can be. Rehabilitation exercises lessen pain, strengthen muscles, and speed up the recovery process, helping the body to get back into shape after a traumatic event.
CANINE PHYSICAL REHABILITATION THERAPY CENTER
Our Wellness and Physical Conditioning Program has been specifically developed for dogs that need more exercise, are overweight, need enhanced strength, or to alleviate chronic pain.
COMMON INDICATIONS FOR PHYSICAL REHABILITATION THERAPY INCLUDE:
hip and elbow dysplasia
gait abnormalities
spinal cord injuries and surgeries
spine disorders such as intervertebral disk disease or IVDD
bone and joint injuries and surgeries
arthritis/degenerative joint disease (DJD)
obesity or overweight and out of shape pets
pets with chronic diseases like osteoarthritis
former Physical Rehabilitation Therapy patients
working and sporting dogs to promote optimal performance
post surgical recovery of the knee, hip, back or neck
amputation recovery
traumatic injuries such as being hit by a car
soft tissue injuries of the tendons, ligaments and muscles
rear limb weakness
paralysis
neurological disorders, such as degenerative myelopathy
nerve disorders, such as fibrocartilaginous embolism or FCE and vestibular disease
This just goes to show that physical therapy isn't just for humans anymore. Veterinary rehabilitation is widely regarded as the fastest growing area in veterinary medicine and the number of practices offering rehabilitation services continues to grow.
Rehabilitation is increasingly prescribed for our canine companions to address issues such as mobility, pain, and joint damage due to orthopedic surgery, musculoskeletal injury, arthritis, obesity, paralysis, neurological disease, and more.
If you've seen one of those cute videos of a dog trying to walk on an underwater treadmill or balance on a big exercise ball, you have seen a small part of canine physical therapy at work.
What are Physical Rehabilitation TREATMENT METHODS for dogs?
To accomplish our treatment goals, we use a combination of:
Massage
Swimming
Therapeutic Laser Therapy
Therapeutic Ultrasound
Neuromuscular Electrical Stimulation
Weight Shifting and Balance Activities
Transcutaneous Electrical Nerve Stimulation (TENS)
Low Impact Exercise on Land and Water
Manual Therapy or Joint Mobilization
Range of Motion Exercises (ROM)
Underwater Treadmill
Acupuncture
Heat Application
Cold Pack Application
Rehabilitation Stem Cell Therapy
Obstacle course exercises

 
Can healthy dogs benefit from physical rehabilitation therapy?
Absolutely! Even healthy dogs and cats have canine or feline PRT as part of their regular exercise regime. This is especially popular when the weather makes it difficult to work out – in both the cold of the winter or the heat of the summer.
The underwater treadmill is a wonderful cross training tool and is beneficial to any dog's program. For example, the Animal Clinic of Billings works with performance dogs that come in once or twice a week to exercise in the underwater treadmill for thirty to forty-five-minute sessions. We also have dogs that have undergone rehabilitation visit us once or twice weekly for underwater treadmill sessions.
BENEFITS OF PHYSICAL REHABILITATION THERAPY for dogs
decreased pain
promote healing
improve function
increase endurance
increase joint mobility
increase muscle strength
improve cardiovascular fitness
increase flexibility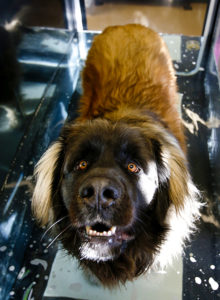 Canine physical therapy helps our furry friends in so many ways including increasing function by enabling the pet to use all of his or her limbs to move around and participate in daily life; decreasing pain due to chronic osteoarthritis or a recent surgery or injury; and, encouraging healing of a wound, a fracture, or a sprain/strain.
Physical rehabilitation therapy for dogs continues to evolve to enhance surgical recovery and maintain a comfortable quality of life for veterinary patients in both dogs and cats alike.
The Animal Clinic of Billings conditioning for wellness program
The Conditioning for Wellness Program we also offer at the Animal Clinic of Billings focuses on overall fitness for:
Overweight and out of shape pets
Former Physical Rehabilitation Therapy patients
Pets with certain chronic diseases like osteoarthritis
Working and sporting dogs where the goal is to promote optimal performance
Call to ask one of our PRT specialist at the Animal Clinic of Billings to learn more about our conditioning for wellness program for dogs.
406-252-9499
Laser Therapy for dogs and cats
What Is Laser Therapy For Dogs and cats, And How Does It Work?
At the Animal Clinic of Billings, we pride ourselves with always searching for new ways to care for your dog especially where pain is concerned. Veterinary laser therapy is an extremely effective treatment option for many ailments that affect pets and humans alike. This treatment option promotes healing through increasing circulation in the affected area, aiding in the cleaning of injured tissues while stimulating cellular metabolism, leading to a decrease in pain. Veterinary laser therapy provides dogs and cats a non-invasive, pain-free, surgery-free and drug-free treatment that is used to treat a variety of conditions, and can be performed in conjunction with existing treatments. This type of therapy will help reduce pain and inflammation, as well as speed the healing process.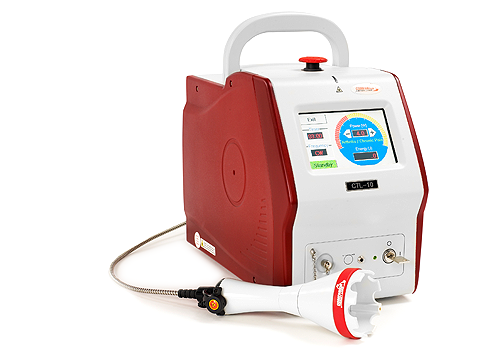 Although improvement is often seen after the first visit, your dog's condition will influence how often and long laser therapy is necessary. Treatments vary in length, but most sites require 3 to 8 minutes. Laser treatments for dogs are cumulative, so each additional treatment facilitates a greater improvement in your dog's condition. The length and frequency of treatments vary by condition, so allow your veterinarian to help devise a sufficient laser treatment schedule for your canine companion.
Cold Laser Therapy For Dogs and cats
Laser therapy, also may be referred to as Cold Laser, Low-Level Laser or Class IV Laser Therapy. Each of these terms refers to the same therapy, using the same equipment to stimulates cell regeneration and increase blood circulation.
What Types Of Conditions Can Dog and cat Laser Therapy Be Used To Treat?
Dog laser therapy can be used to treat a multitude of ailments, including:
Muscle, ligament and tendon injuries
Post-surgical and soft tissue trauma
Back pain
Ear infections
Gingivitis
Hot Spots and open wounds
Arthritis / hip dysplasia
Degenerative disc disease
Anal gland infections
Many of our veterinary therapy patients are older animals with musculoskeletal ailments. Some signs that your senior companion is experiencing pain or discomfort are:
Abnormal sitting or lying posture
Circling multiple times before lying down
Restlessness
Whining, groaning or other vocalizations
Limping, unable to get up or lie down
Difficulty getting into car or down stairs
Lack of grooming
Won't wag tail
Licking or biting area
Lack of appetite
Trembling
EXPECT IMMEDIATE RESULTS FROM VETS YOU CAN TRUST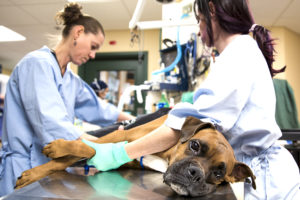 Pain is a common side effect of many of the ailments that we are able to treat through laser therapy. Most often, when a pet begins a laser therapy session, the first sign that the therapy is working is that the animal will suddenly relax, evidencing the fact that their pain is being alleviated. You may notice that your pet sleeps better after a laser therapy session, due to a dramatic decrease in their discomfort. Laser treatments are an excellent way to provide pain relief to your canine or feline companion. Laser therapy reduces pain by reducing inflammation through Òvasodilation" (the opening of blood vessels) and also by activating the lymphatic drainage system, thus draining swollen areas. The result is a reduction in swelling which reduces pain. The lasers also stimulate nerve cells that block pain signals from being transmitted to the brain, thereby decreasing nerve sensitivity. Because there is less inflammation, less swelling and an interruption of pain signals to the brain, the dog or cat will experience less pain. Laser treatments for dogs and cats also stimulate the production of high levels of naturally-produced endorphins which further counteract the animals pain.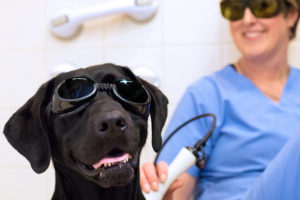 HOW dog and cat LASER THERAPY WORKS
The Companion Therapy Laser is a Class IV deep tissue laser. It uses an intense beam of light particles (photons) to safely and painlessly penetrate deep into tissue and stimulate cells to heal. These photons stimulate mitochondria within the cells to produce ATP through a chemical change called "photo-bio-modulation."
ATP provides the energy needed for the tissue to heal. This increase in ATP production reduces inflammation, provides pain relief, accelerates tissue repair and cell growth, improves blood flow to site of injury, allows for faster wound healing, and can improve nerve function. Another great feature of laser therapy is that there are no known side effects, and most pets experience positive results immediately. This FDA-approved treatment modality has been clinically proven to be effective in treating a number of health conditions in dogs, cats, and other animals.
What Can I Expect At My Dog or cat's Laser Therapy Appointment?
During treatment, pets typically experience a warm, soothing sensation that's similar to that of a massage. A technician will hold the laser wand directly over the affected area for somewhere between 3 and 10 minutes. However, the amount and frequency of treatments are determined by the specific condition being treated as well as the severity of the condition. There is no pain associated with the treatment and most dogs will relax during this time. The almost immediate relief of pain will allow your dog to be comfortable and any anxiety he or she initially experiences will quickly dissipate. Occasionally, some dogs actually fall asleep during their therapy sessions.
Laser Therapy To Recover From Injury Or Surgery
Dog laser therapy is a very helpful tool during postoperative recovery. In minor cases, laser therapy alone may be enough to alleviate pain and stimulate the healing process. Because it works directly on injured or affected areas, laser treatments can help speed up healing, strengthen muscle and tissue, improve mobility and enhance your dog's overall quality of life almost immediately.
Is Laser Treatment For Dogs or cats Painful Or Uncomfortable?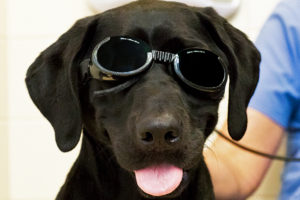 Laser treatment for dogs is totally pain free and very comforting. As the laser is administered, your dog may feel a gentle and soothing warmth, tingling, or no sensation at all. For many canines, dog laser therapy is very relaxing. As areas of pain or inflammation become more comfortable, any anxiety and tension your dog may be experiencing tends to quickly dissipate.
Are There Any Side Effects Of Laser Therapy For Dogs or cats?
Laser treatment for dogs has no known side effects, and is considered both safe and effective across the veterinary industry.
If your dog or cat has recently been diagnosed with any of the following conditions, speak with your vet about laser therapy:
Arthritis
Hip dysplasia
Skin conditions such as hot spots and infections (dermatologic disorders, interdigital dermatitis, and lick granulomas)
Pain management for sprains
Post-surgery pain management, especially for spaying and neutering
Scar tissue therapy
Dental care
Wound treatment
Degenerative joint disease (arthritis)
Back pain/disc disease
Post-surgical healing/pain relief
Tendonitis
Otitis externa (ear infections)
Sprains and strains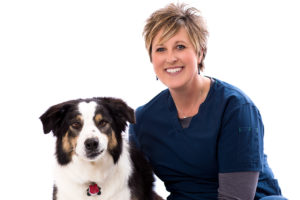 We may be able to help reduce the pain your pet is experiencing as a result of these conditions. Have your pet evaluated if you notice limping, an inability to settle, whining, or trembling. Other warning signs include a lack of appetite and difficulty maneuvering through your home, especially up or down stairs.
How Can I Schedule A Dog or cat Laser Therapy Appointment?
Scheduling an appointment for veterinary laser therapy is as easy as picking up the telephone, sending us an inquiry through our contact page or visiting our veterinary hospital in person. Our knowledgeable, compassionate veterinary team can help answer any questions you have. Make an appointment for your canine companion to begin experiencing the benefits of laser therapy today! 406-252-9499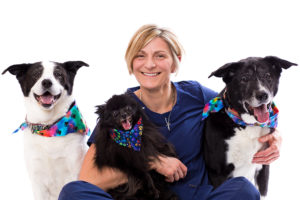 Let our highly trained and experienced team of veterinarians and veterinary technicians help you keep your pet as happy and healthy as they can be.
Call and schedule an appointment for your four-legged friend today and receive a 20% discount on a canine rehabilitation therapy treatment for your dog.
406-252-9499
MORE VETERINARY SERVICES
ANIMAL CLINIC OF BILLINGS AND ANIMAL SURGERY CLINIC
providing our region's companion animals and their families what they need and deserve since 1981
1414 10th St. West, Billings MT 59102
406-252-9499