Welcome to the Animal Clinic of Billings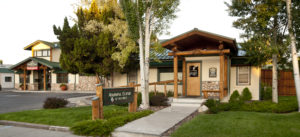 The Animal Clinic of Billings is a small animal veterinary hospital centrally located just north of Grand Avenue at 1414 10th Street West. The Animal Clinic has been caring for companion animals since its founding in 1981 by Ken Brown, DVM.
We are open seven days a week (Monday-Sunday) to serve you and your pet. Even after taking precautions, accidents and illnesses can still happen. At the Animal Clinic of Billings, emergency and critical care services are available 24/7 throughout the holiday season and year-round to help you and your pets though any situation that may occur. Our patients consist primarily of dogs and cats and we welcome rabbits, ferrets, and other pocket pets. In addition to routine veterinary procedures we offer many specialized surgical procedures including orthopedics, advanced dental care, and cosmetic surgery.
Drs. Brown and Sherburne provide arthroscopic joint surgery, advanced ACL (CrCl) injury procedures in Billings, including TPLO and TTA, partial and complete joint fusions, elbow dysplasia surgeries including PAUL, and total hip replacements.
Thank you for browsing our website. Here you can learn about our practice, request a prescription refill online, and contact us 24 hours a day.
---
Animal Clinic of Billings and Animal Surgery Clinic of Billings
Providing our region's companion animals and their families what they need and deserve since 1981.
Advanced Surgical Training
Experienced, Dedicated Staff
State-of-the-Art Facility and Equipment
Outstanding Care of Severely Injured Pets
Call and schedule an appointment for your four-legged friend today and receive a 20% discount on any canine rehabilitation treatment.