Post-Operative Care Instructions
If your dog or cat has recently had a major orthopedic surgery at the Animal Clinic of Billings and Animal Surgery clinic, please choose from the following surgical procedures for detailed post-op instructions, home care recommendations, follow through initiatives and physical rehab protocols from our veterinarians and physical rehabilitation therapists.
Please note that we highly recommend implementing our physical rehabilitation therapy, hydrotherapy, physiotherapy and laser therapy services into all of our patients post-op recovery protocols that have undergone major orthopedic surgical procedures. Learn more about our Canine Physical Rehabilitation Therapy and Laser Therapy Center in Billings HERE.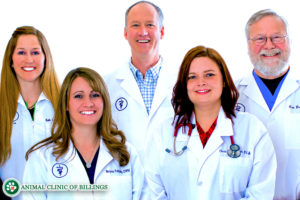 Let our highly trained and experienced team of veterinarians and veterinary technicians help you keep your dog as happy and healthy as they can be.
Call the Animal Clinic of Billings to schedule your dogs next wellness examination with us today!
406-252-9499    REQUEST AN APPOINTMENT