Orthopedic Surgery
Listed below are detailed pages that break down and describe the most common orthopedic conditions we treat and major surgical procedures we offer at the Animal Clinic of Billings and Animal Surgery Clinic.
Forelimb surgeries:
Hind Limb surgeries:
Spine and neck surgery:
Growth Deformities and crooked limbs:
Regenerative Therapy:
Other orthopedic procedures:
Tendon and Ligament repair Procedures: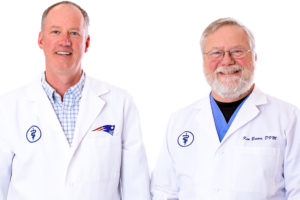 Doctors Brown and Sherburne have more than 65 years combined veterinary practice experience and have successfully managed thousands of complex orthopedic injuries.
Drs. Brown and Sherburne provide arthroscopic joint surgery, advanced ACL and CrCL injury procedures in Billings, including TPLO and TTA, partial and complete joint fusions, elbow dysplasia surgeries including PAUL, and CUE, total hip replacements, limb sparing and straightening procedures in addition to many other advanced forms of spine surgery, knee surgery, shoulder surgery, pelvic fracture surgery, bone grafting, and torn or ruptured ligament repair procedures on dogs and cats at the Animal Clinic of Billings and Animal Surgery Clinic in Billings Montana.
Visit our Orthopedic Surgery Services Page to learn more.
---
ANIMAL CLINIC OF BILLINGS AND ANIMAL SURGERY CLINIC
providing our region's companion animals and their families what they need and deserve since 1981
1414 10th St. West, Billings MT 59102
406-252-9499