What To Expect

Preparing Your Pet For Surgery
Many pets will have to undergo surgery at some point in their lives. As a pet owner, you want your companion to receive the best possible surgery care in a state-of-the-art, safe, and comfortable environment. Our veterinarians and technicians understand these concerns, and we understand how stressful a major surgical procedure can be for both you and pet.

The Veterinarians at the Animal Clinic of Billings are experienced in performing a wide variety of both routine and advanced surgical procedures in dogs and cats. These include soft tissue procedures, orthopedic procedures, and dental procedures.
Our caring team of veterinarians and technicians treat every patient with the highest level of care throughout every surgical procedure. Our highly skilled veterinarians place the utmost emphasis on pain management before, during, and after surgery to ensure your dog or cat is comfortable and safe throughout the entire process. Using advanced medical equipment, your pet's vital signs are monitored by our well-trained technicians and veterinarians throughout their surgery and post-operative recovery.
Our veterinary hospital features a modern surgical suite, where our veterinarians perform surgeries with the safety and comfort of our patients as our top priority. Our veterinarians have years of experience in advanced veterinary surgery procedures and offer their expertise with both precision and compassion.
What to Expect Before Surgery
For any pet that may require surgery, a physical exam and surgical consultation are the first step, enabling the surgeon to determine whether surgery is the best treatment, and, if so, which procedure will achieve the best outcome. In some situations, the surgeon may order x-rays or other imaging studies to properly plan the surgery. During the consultation, the surgeon will also discuss the prognosis, recovery process, and necessary post-operative care.
In addition to a complete physical exam, blood tests are performed on all patients before surgery. This provides the surgeon with important information about a patient's general health and organ functions, enabling the identification of any issues that may increase the risk of anesthesia (such as kidney or liver dysfunction) and surgery (such as a blood clotting disorder). 
At the Animal Clinic of Billings, we believe that our patients' safety and comfort before, during, and after a surgical procedure is of the utmost importance. Prior to surgery, our veterinarians create a comprehensive pain management protocol for each patient, which typically involves a combination of pre-surgery and intra-operative intravenous pain medication, local or regional nerve blocks, epidural pain medication, and post-operative injectable and oral pain medications. Each patient's anesthesia protocol is also fully customized, taking into account factors such as age, breed, current health status, concurrent medical issues, and previous drug sensitivities.
To ensure that patient safety is maintained, each patient's vital signs are continually monitored by one of our trained technicians from the moment they are placed under anesthesia until they are fully awake after surgery. We also place an IV catheter in each surgery patient, which allows us to administer fluids to maintain a patient's blood pressure, as well as pain medication, antibiotics, and emergency drugs, should that become necessary.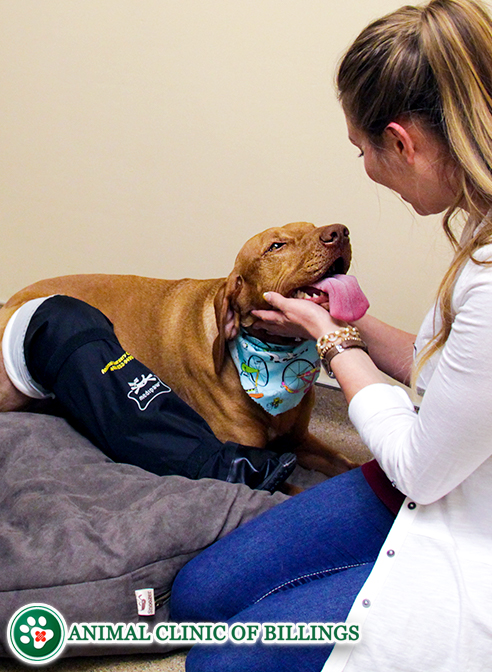 What to Expect After Surgery
While your pet is recovering from surgery, one of our veterinarians or surgery technicians will contact you to let you know how your pet is doing, how the surgery went, and when your dog or cat will be ready to go home.
Detailed at-home recovery care instructions, including how and when to give each medication, any activity restrictions, and signs of trouble to watch for, will be provided when your pet is sent home. 
A follow-up appointment will also be scheduled with the surgeon for 10-14 days after surgery to assess healing and remove their stitches. You may also call us any time during our regular business hours if you have any further questions your pet and their post surgery care and recovery.