Grooming and Boarding
GROOMING
The Animal Clinic of Billings and Animal Surgery Clinic offers professional dog and cat grooming services, as well as medicated baths for feline and canine patients that require specific dermatologic needs.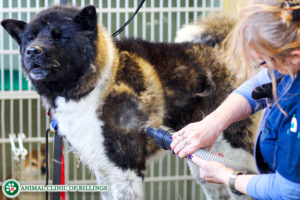 Our goals are to improve your pet's coat and skin health while making sure they their best. Our grooming team is very attentive to the individualized needs of our feline and canine patients, in addition to their owners' concerns, and we customize our grooming services accordingly to each animal.
A professional grooming session at the Animal Clinic of Billings and Animal Surgery Clinic typically consists of the dog or cat being brushed, bathed and dried, as well as trimmed or clipped. Our on-site professional groomer, Donna Rae Alexander, brushes, and combs out mats before the bathing, making it easier to lather the dog or cat with shampoo.
Additionally, we clean the dog's ears to remove buildup and to check for signs of infection. When the dog's coat has dried, he or she will be trimmed, clipped, or shaved, if needed or requested. We will also cut your dog's nails to a comfortable length, as long nails can become painful for a dog, especially when he or she is walking, in addition to brushing your dog's teeth with a dog-specific toothpaste as well.

Pet grooming services

Brushing and untangling or de-matting hair and fur
Bathing using only the best hypoallergenic and soap-free shampoos
Medicated baths – which are customized to your pet's skin condition and sensitivity level
Nail trimming
Hair, fur and coat trims, clips, and stylized hair cuts.
Express anal glands
Flea and Tick Removal
Clean and flush the ears
Remove skunk spray smells and other bad odors
Benefits of professional pet grooming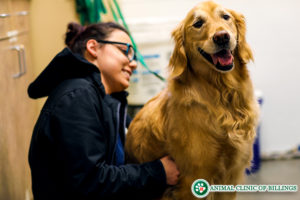 Grooming your pet on a regular basis can provide many health benefits to your pet, and keeps them looking and smelling great. Additionally, regular grooming allows for early detection of skin diseases, ear infections, and external parasites on dogs and cats, which can often prevent costly veterinary bills down the road if allowed to go untreated. As with any medical condition or ailment, the sooner it's discovered, the easier it is to treat.
One of the many benefits of bringing your dog or cat to our groomer at the Animal Clinic of Billings is that we are a full-service veterinary hospital as well, and our groomer has been trained to immediately notify one of our veterinarians if any potential medical problems are suspected.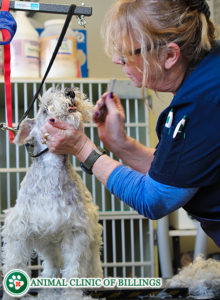 Professional dog and cat grooming is also important for preventing painful hair matting, dermatology problems, and skin infections. Many times, problems hiding below the fur of your dog or cat that might otherwise go unnoticed by you at home can be detected and addressed simply by bringing your pet in for a long-overdue spa day.
Here are some of the benefits of regular hair brushing and nail trimming on dogs and cats listed in more detail:
Brushing your dog or cats hair
Regularly brushing your dog or cats hair can remove dandruff, dead hair, debris, and even stimulate the natural oils that protect the hair and help to produce a smooth, healthy, and shiny coat. Brushing can also prevent your dog's coat from becoming matted and your cat from getting rats nests and hairballs.
Dog and cat nail trimming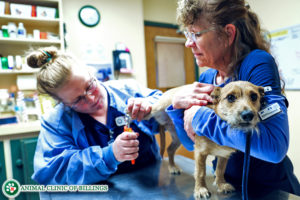 Regular nail trimming can help reinforce healthy foot structure and prevent nail injury and curling, which can lead to infection. Unkempt nails allowed to grow long not only look unattractive but can actually do serious damage to your dog over time and certainly won't do your floors any favors either.
When a dog's nails are long enough to touch the ground, they begin to exert force back into the nail bed. This can create a tremendous amount of pain for the dog and cause potentially harmful pressure on the toe joint over time. In fact, the toe joints can actually realign the network of carpal joints above the nails in the forelimb and cause the dog's foot to become flattened and splayed.
If your dog's weight distribution and natural alignment is compromised by this, it can leave him or her more susceptible to more serious orthopedic injuries that could require a complicated and expensive surgery. Additionally, routine motions and movements like walking and running can become difficult and painful for the dog and ultimately diminish his or her quality of life. This is especially important in senior or older dogs, whose posture is more dramatically influenced and improved by maintaining a consistent and proper nail length.
In extremely overgrown nail cases on dogs, the nails can curve to the point in which they actually grow into the pad of the dog's foot. Obviously, they should never be allowed to reach that point, but even if a dog's nails don't seem to be that out of control, longer nails are more susceptible to becoming torn or split. Once a nail splits, it becomes extremely painful for the dog, and in most cases will need to be treated by a veterinarian to fix it.
In the end, not tending to your dog's nails will ultimately create a vicious cycle that can lead to pain and much more complicated orthopedic problems down the road.
HOW OFTEN SHOULD I HAVE MY PET GROOMED?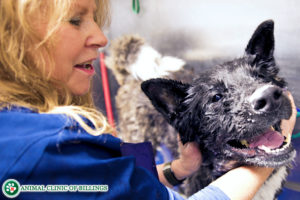 How often your pet should be groomed depends a lot on the type of breed, hair length, and thickness of their coat. In most circumstances, regular grooming on pets should be done once a month.
More frequent brushing and grooming at home should be done on young puppies and dogs who have never been groomed so that the dog or cat becomes conditioned to being handled and brushed early on. This will help the dog or cat avoid any grooming issues or fear of being groomed into adulthood. This is a behavioral modification technique known as desensitization or conditioning.
WHY USE A PROFESSIONAL PET GROOMER?
1. Our clinic has all the right tools: 
You certainly don't want to go about pet grooming in an unsanitary fashion by using your own scissors and electric razors to groom your pet dog or cat. At the Animal Clinic of Billings, we have all the right tools to get your pet looking his or her best, which includes everything from every type of shampoo and kind of clipper to an adjustable grooming table and so forth. We are already equipped with the best shampoos for dogs and cats with skin allergies, irritations, fleas, and ticks, or for pets that got sprayed by a skunk and know which ones will best suit your pet's needs.
2. We work around to fit your schedule: 
We make it easy to drop off your pet and pick him or her up later at your convenience.
3. We know how to properly handle animals: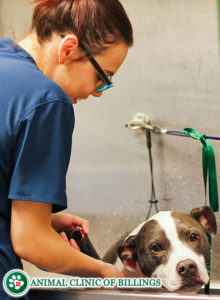 Older dogs and cats can sometimes become anxious or aggressive when you try to groom them. In some cases, they may even need to be sedated while being groomed. Clearly, this is something you can't do at home on your own unless you are a veterinarian, but our veterinarians here at the Animal Clinic of Billings and Animal Surgery Clinic can. When handling your animal, our experienced and knowledgeable staff may also notice a concerning injury or lump that you may not have noticed or know how to diagnose.
Additionally, if you yourself have a condition such as back pain or arthritis, rest assured that the Animal Clinic of Billings professional grooming services will prevent you from having to do excessive lifting and handling of your dog.
4. 

We take care of the gross stuff, so you don't have to: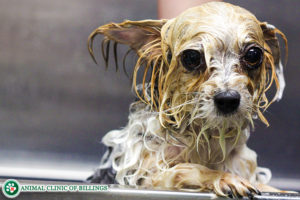 Shampooing a mud drenched dog, soaking out the smell of skunk spray, removing fleas and ticks, and cleaning and expressing anal glands are not the most pleasant things in the world to have to deal with. However, these are just part of what comes with owning a dog.
Our professional groomer and grooming assistants at the Animal Clinic of Billings knows how to properly clean and take care of these seemingly yucky things, and much more that we probably don't need to get into. You can believe us when we say that whatever the smell or stain may be, we've got you covered.
Regular grooming maintains a healthy coat and skin. Regular nail trims not only keep the nails short and reinforce healthy foot structure and posture, but it also greatly reduces the risk of an assortment of infections that can occur. Plus, a shiny, healthy, and properly brushed coat sheds less and what's not to love when your pet looks and smells great.
Most importantly, regular professional grooming may result in early detection of issues with ears, skin, teeth, and more, so there are very real health benefits to professionally pampering your pet on a regular basis.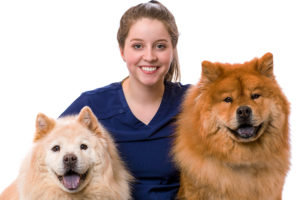 Looking to improve your pet's coat and skin health? Schedule a grooming appointment at the Animal Clinic of Billings Tuesday through Saturday to make your furry friend shine!
Ask us about our monthly specials and discounts on our grooming services too!
Call 406-252-9499 to schedule your pet's spa day today!   REQUEST AN APPOINTMENT

---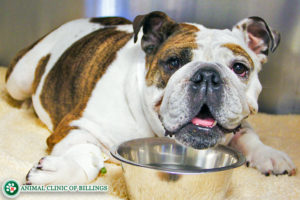 PET BOARDING
If you're like any of us, then you'd always prefer to take your furry best buddies with you whenever you're able. Unfortunately, sometimes we just aren't able to make that work and need to find a trustworthy and friendly place to keep our companions healthy and happy while we're away.
We have excellent boarding facilities at the Animal Clinic of Billings with large runs for bigger and medium-size dogs, as well as spacious crates for smaller dogs and an entire condominium complex designated just for cats. All of our boarding guests receive a comfy blanket, plenty of food and water, and outdoor and playtime with a person. If you'd like, we encourage boarding pets to bring a blanket from home. Often times, the familiarity of the blanket and smell of your home can help tremendously to make their stay with us more enjoyable and comfortable while you're away.
Every dog that's boarded with us gets taken out at least three times a day to stretch their legs, go potty, and have some human contact time. Our team of kennel assistants, groomers, physical rehabilitation practitioners, veterinary technicians, and veterinarians are constantly monitoring our boarding guests to ensure they stay happy and healthy throughout their stay at the Animal Clinic of Billings and Animal Surgery Clinic.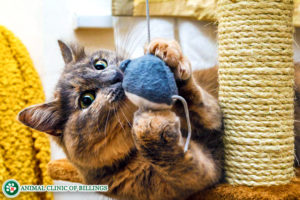 You have the option to allow us to feed your dog or cat from options, which is all the best veterinarian recommended Prescription Diet and Royal Canine varieties of dog and cat food, or we would be happy to feed your dog or cat any specific food that you would like to supply us with upon drop off. Additionally, if your dog or cat requires any medications while they are staying with us, we'll make sure that's taken care of too.
If you like, before your pet dog or cat checks out, our in-house professional groomer can give your pet a bath for you too, so they are in tip-top shape when you pick them up.
BOARDING SERVICES WE OFFER
Cat Condominium Boarding – Quiet and Comfortable
Dog Boarding
Doggie Day Care
Every canine and feline boarding patient is admitted by one of our trained staff members who takes note of your pet's daily routines and assess their current health status. This allows us to guarantee your pet receives nothing but the best and most optimal care while you are away.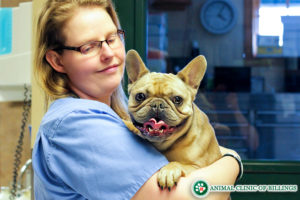 We provide specialized boarding programs for pet patients that may require extra attention, such as puppies, kittens, and senior pets. Additionally, medical boarding services are available for any animal suffering from an existing health condition where a higher level of specialty veterinary care would be required.
This includes physical rehabilitation therapy on our underwater treadmill and laser therapy treatments. We also offer extra amenities such as additional playtime, daily hair brushing, and brushing teeth, for example.
Every boarding patient at the Animal Clinic of Billings and Animal Surgery Clinic will have his or her health status reviewed by one of our veterinary technicians on a daily basis to ensure your dog or cat is thriving and free of any harm while in our care.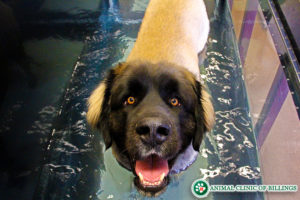 If you would like to receive updates on your pet throughout their stay with us, we are happy to call, email or text you so that you may know how your pet dog or cat is doing at all times. Additionally, we can accommodate boarding stays for any duration at the Animal Clinic of Billings, and we offer dog and cat runs of all sizes from large to small.
If you need to find a place for your dog or cat to stay for a few days or however long, let us take care of your furry friend while your away. Call us anytime for your boarding and grooming needs!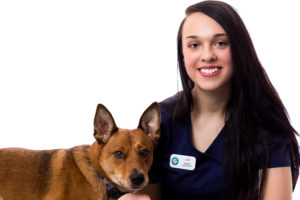 Let our highly trained and experienced team of veterinarians and veterinary technicians help you keep your pet as happy and healthy as they can be.
Call the Animal Clinic of Billings to schedule a grooming appointment with us for your pet today!
406-252-9499   REQUEST AN APPOINTMENT