Most of us are familiar with the dangers of frostbite this time of year, and it is important to keep in mind that our pets are also vulnerable to this condition, especially on their paws and ears. Frostbitten skin initially looks pale and flakey, then over time darkens to become black as the tissue dies off. Limiting time outside and protecting paws with insulated booties are the best means of avoiding frostbite. If you are concerned your pet may have frostbite, have them evaluated as soon as possible by your veterinarian.

HOW TO SCHEDULE YOUR DOG'S NEXT VETERINARY APPOINTMENT WITH US
We strive to make scheduling an appointment with one of our veterinarians as enjoyable and easy as possible for both you and your canine companion. All it takes is picking up the phone, sending us a short email here on our CONTACT PAGE, or click the "REQUEST AN APPOINTMENT" button below to view our availability online. Our veterinarians and support staff are here to help you and your dog in any way that we can.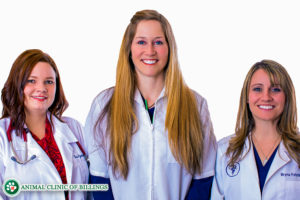 Let our highly trained and experienced team of veterinarians and veterinary technicians help you keep your dog as happy and healthy as they can be.
Call and schedule an appointment for your four-legged friend today and receive a 20% discount on canine rehabilitation treatment for your dog.
406-252-9499  REQUEST AN APPOINTMENT