With hunting season in full swing, many of us are taking advantage of the opportunity to hunt with our dogs. It is important to keep in mind that accidents and injuries can be unavoidable in the field. To reduce the risk of injuries, be careful not to work your dog beyond their current level of fitness. Also limit the amount of time spent outside when faced with extreme weather conditions.
After hunting, be sure to carefully inspect your dog's paws and skin for lacerations or punctures, which may not be obvious as dogs can be very good at hiding discomfort. If you identify a wound or notice a limp, have your dog examined by a veterinarian as soon as possible to get them back to 100%.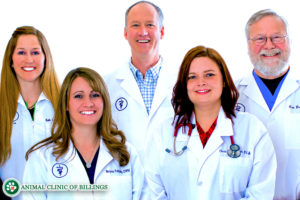 Let our highly trained and experienced team of veterinarians and veterinary technicians help you keep your dog or cat as happy and healthy as they can be.
Call the Animal Clinic of Billings and Animal Surgery Clinic to schedule your pet's next wellness examination with us today!
ANIMAL CLINIC OF BILLINGS AND ANIMAL SURGERY CLINIC
providing our region's companion animals and their families what they need and deserve since 1981
1414 10th St. West, Billings MT 59102
406-252-9499