Pets Saving Pets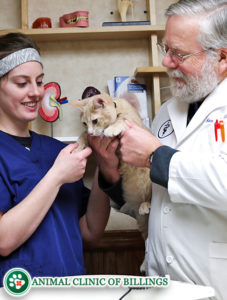 While our veterinarians and technicians are skilled at treating a wide variety of illnesses and injuries, sometimes we need a helping hand (or paw) from a group of very special dogs and cats. These hero pets save lives by donating blood. A wide variety of conditions may necessitate a veterinary blood transfusion, from vehicle collisions and stomach ulcers to cancer and infectious diseases.
I've handled many cases where our ability to save a patient has come down to having blood available to administer at a critical moment , and one of my own pets received a blood transfusion that helped give me a few more precious months with him, so I have a great of gratitude for donor pets and their owners.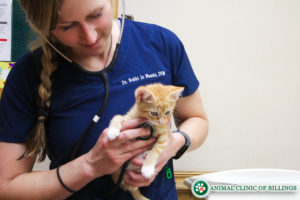 A number of requirements must be met in order to become a blood donor: animals must be between one and eight years old, of sufficient size (at least 50 pounds for dogs and 10 pounds for cats), spayed or neutered, and must never have been pregnant or received a blood transfusion in the past. In addition, cats must be indoor-only. Eligible pets undergo physical exams and bloodwork to ensure they have no health problems; additional blood tests are also performed to screen for blood-borne diseases and to identify each donor's blood type. Annual exams and bloodwork are performed, and all donors are kept current on vaccinations and receive heartworm, flea, and tick prevention to minimize the risk of contracting potentially communicable diseases.
When a patient needs a blood transfusion, a blood sample is tested for compatibility with our donor pool, and an appropriate donor is called into the clinic. Donating blood is a painless procedure that typically takes less than half an hour. Most pets handle the procedure very well, but if they become nervous or excited they are given a light sedative to keep them relaxed and ensure a positive experience. Afterward, they are given a dose of fluids (to help replenish their blood volume) and a tasty meal before going home. Each donor must wait at least 2 months before donating again in order to allow the body enough time to replace the donated red blood cells. If we are able to anticipate a need for blood in the immediate future, blood can be collected and stored for up to three weeks under refrigeration prior to transfusing.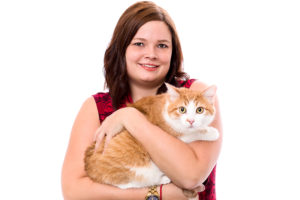 At the Animal Clinic of Billings, we are proud to be able to offer this life saving procedure—with a little help from some extraordinary dogs and cats!
See us on Facebook!
---
Dr. Youngstrom is the Animal Clinic of Billings' weekend veterinarian, providing emergency care and managing hospitalized patients. Dr.Youngstrom graduated Magna Cum Laude from Ohio State University College of Veterinary Medicine in 2012. Following graduation, she participated in a year-long rotating internship in small animal medicine and surgery at a prestigious emergency and referral center in Springfield, Virginia. Under the supervision of residency-trained criticalists during her internship, Dr. Youngstrom dealt with a large number and variety of medical and surgical emergencies and intensive care cases.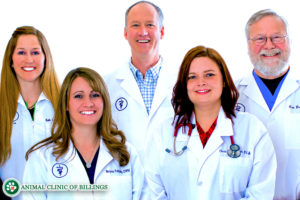 Let our highly trained and experienced team of veterinarians and veterinary technicians help you keep your dog as happy and healthy as they can be.
Call the Animal Clinic of Billings to schedule your dogs next wellness examination with us today!
406-252-9499   REQUEST AN APPOINTMENT