Cat Prescriptions and Medications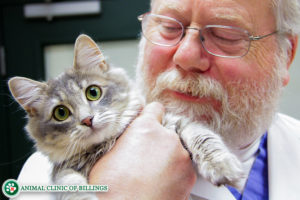 Evolution has made cats very adept at hiding pain and illness, which makes it difficult to detect early signs of disease. Subtle changes in behavior and activity are often the first sign that something is wrong. When an Animal Clinic of Billings veterinarian diagnoses a cat with an illness or injury, the patient may need prescription medication.
Anyone who has ever tried to medicate a cat knows how much of a challenge it can be when the patient is not interested in cooperating.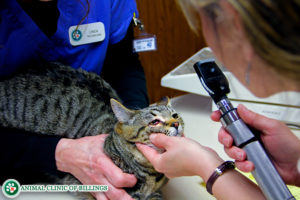 The Animal Clinic of Billings staff is here to teach you how to successfully medicate your furry friend without stress, drama, or painful scratches. We have amassed quite a few tricks and tips for even the most resistant feline. If you have questions on how to medicate your cat, please contact us on our website, or call 406-252-9499 to schedule an appointment with one of our veterinarians.
COMMON REASONS FOR PRESCRIPTIONS FOR CATS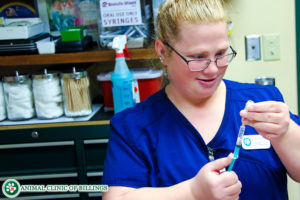 Veterinarians prescribe medication to cats for many reasons. Some of the most common conditions that require long-term oral medications in cats include kidney disease, hyperthyroidism, diabetes, allergic diseases, inflammatory bowel disease, arthritis, and some cancers. Conditions that commonly require short-term courses of oral medications in cats include infections, injuries, and short-term stomach upset.
To make administering medication easier for both you and your cat, many medications can be compounded into flavored chews or a flavored liquid, which many cats will perceive to be a treat rather than a medicine. Our veterinary team will help match your cat with the best-received form of their prescribed medication, and will help teach you how to most effectively administer each medication.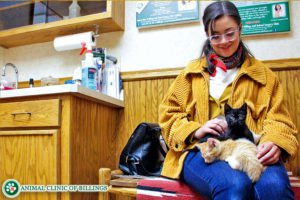 In rare cases, orally medicating a cat patient at home is not possible. There are a limited number of long-lasting injectable medications that may be useful in some such cases, such as Convenia (an antibiotic lasting 10 days in the body) and Depo-medrol (a steroid lasting several weeks in the body).
Another option for cats that cannot be orally medicated is a compounded transdermal preparation, which is applied to the skin in precisely measured amounts and absorbed into the bloodstream. This is only an option for a limited number of medications, and may not be as effective as oral medications, but is nonetheless a good option in certain situations.
One of our veterinarians will help you decide whether one of these options is necessary for your cat.
TIPS ON GIVING YOUR CAT MEDICINE – PILLS, LIQUID & TRANSDERMAL GEL
For administering pills to your cat, try using Pill Pockets. These are soft, tasty treats inside which you can conceal a pill. 

Pill guns are designed to deliver the medication just behind the base of the tongue where they stimulate the swallowing reflex, making them more difficult to spit out. 

Some medicines are available in liquid form. Our veterinary team will explain the dosing process and how to administer the liquid medication properly. Liquids also can be compounded to a flavor your cat will enjoy. 

Some medications are available as Transdermal Gels, which means they are applied topically like a lotion. With transdermal gels, it is essential to understand the absorption rate and pay close attention to correct dosing. 
REFILLING YOUR CAT'S PRESCRIPTION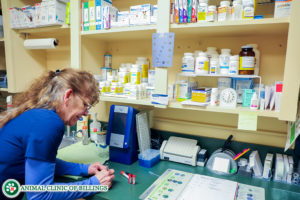 It is recommended you fill your pet's prescription at a veterinary hospital rather than a human pharmacy to minimize the chances of an error or delay. The Animal Clinic of Billings and Animal Surgery Clinic maintains a well-stocked pharmacy for our patients. Some drugs need to be compounded or flavored and then either picked up or mailed to you.
Additionally, if your pet is on certain medications, they may need to have periodic blood tests to ensure the dosage is correct and the medication is not having any adverse effects on the body.
If your pet needs a prescription refill and is an existing patient of the Animal Clinic of Billings, call us at 406-252-9499, stop by our clinic during regular business hours, or click the button below to request a prescription refill from one of our veterinarians online.
What is Prescription Cat Food?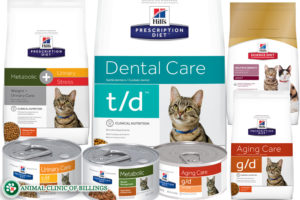 Prescription cat foods are diets specially formulated by veterinary nutritionists to manage specific health issues, such as kidney disease and diabetes. Your cat may reject a new menu of prescribed cat food at first, but should eventually take to it. Most prescription cat foods come with a money back guarantee if your cat does not come to accept them.
Behavior Modification Medications For Cats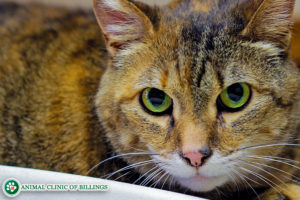 A number of behavior modifying medications can be effective for cats exhibiting behavioral problems such as inappropriate elimination, aggression, and compulsive behaviors. After performing a physical exam and any diagnostics necessary to rule out a medical cause for your cat's behavior problem, one of our veterinarians will discuss pharmacologic options as well as environmental modifications and other changes which may help alter the behavior.
A combination of behavioral medicine and behavior alteration techniques is generally effective over time in reducing or eliminating a behavior problem.
DISCUSS PRESCRIPTION CAT MEDICATIONS WITH OUR VETERINARIANS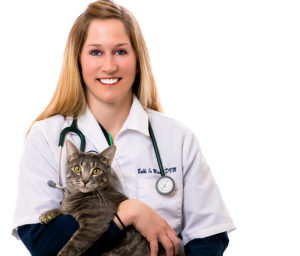 If you see a change in your cat's behavior, please call the Animal Clinic of Billings and make an appointment. Even the smallest behavioral changes may indicate a significant health problem that requires medication. If your cat is an existing patient of ours and is on prescription medication, we are happy to supply you with refills. 
Talk to an Animal Clinic of Billings veterinarian about prescription cat medication at your next appointment.
406-252-9499  REQUEST AN APPOINTMENT