Dog Ear Cropping
Ear Crop Post Op
Recheck

ear crop bandages with our veterinarian 

at five-to-seven days post op for sedated bandage change at no charge
Recheck five-to-seven days later (10-to-14-day post op) for scheduled suture removal and probable re-taping of the ears. At this visit, if you are interested, we will teach you how to tape your pet's ears at home.
Additionally, we can dispense the proper tape for the procedure.
Dr. Brown can and will meet with anyone whose pets' ears are not standing correctly at no charge for that exam and consultation.
As long as you, the owner/caregiver do your responsible part, all visits, bandages, hospital charges and sedation will be provided free of charge for 21 days (three weeks) following surgery.
Thank you for entrusting the care of your pet to the Animal Clinic of Billings.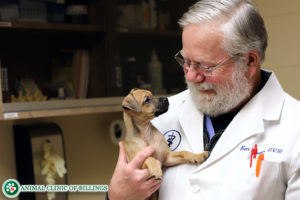 Let our highly trained and experienced team of veterinarians and veterinary technicians help you keep your cat as happy and healthy as they can be.

Call the Animal Clinic of Billings and Animal Surgery Clinic to schedule your pet cat's next wellness examination with one of our veterinarians today!
406-252-9499   REQUEST AN APPOINTMENT