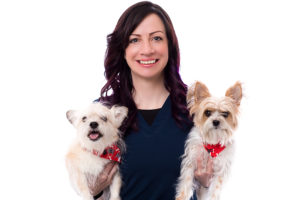 Amanda (Mandy) Smith
Veterinary Technician – Animal Clinic of Billings and Animal Surgery Clinic
Mandy is passionate for her work as a technician. She joined the Animal Clinic in 2017 and received on-the job training for her chosen field. Mandy loves animals and plays a key role at the clinic in promoting their health and vitality. .Her responsibilities include taking patient histories assisting in surgery, performing dental prophylaxis and many other duties.
 Mandy thrives on providing aftercare, client communications, serving as the clinic's weekend on-call technician and prepping animals for procedures. She says one of her most rewarding duties is meeting furry patients new to the Animal Clinic of Billings. Her clinical interests range from dental care and canine physical therapy, to surgery and patient care.  
Mandy's household includes two Biewer Terriers.
Continuing Education:
Western Veterinary Conference February 2019