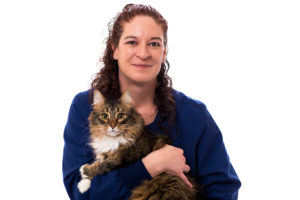 Angela (Angie) Wolf – Veterinary Technician
Angie joined the Animal Clinic of Billings in 2001. She is an experienced technician with an extensive knowledge of surgical procedures, anesthesia, physiology, pharmacology, surgical principles, aseptic technique and instrument identification. In addition, Angie's detail-oriented personality makes her a great surgery technician.
Angie has advanced training in surgical assistance in the care of canine elbow dysplasia patients, total hip replacement (THR) – a technically demanding procedure that provides for an immediate and indefinitely stable anchorage of the prosthetic components and Tibial Tuberosity Advancement (TTA) – a small animal orthopedic surgical procedure that repairs cranial cruciate deficiency. In addition, Angie is proficient in assisting in Proximal Abducting Ulnar Osteotomy (PAUL) plate implant procedures and Advance Locking Plate System *ALPS) which reduces iatrogenic trauma and offers greater versatility and increased overall stability, resulting in accelerated fracture healing.
Angie loves animals and finds it most rewarding to help sick and injured pets. She also enjoys getting to know pets and their owners who are new to the clinic.   
In addition to her technician responsibilities Angie pitches when needed in both reception and office work. On top of that, Angie shares practice management chores with the clinic's Canine PRT Director Kay Lynn Allen and is the scheduling liaison for the clinic's five veterinarians.
Angie's household includes a fluffy Domestic Long Hair cat.
Education:
Bachelor of Science, Biology with a minor in Chemistry. MSU – B, 2001
Advanced Training:
KYON Surgery Technician Training – Tibial Tuberosity Advancement (TTA), Las Vegas 2012
KYON surgery Technician Training – total hip replacement (THR), Las Vegas, 2014
KYON Surgery Technician Training – PAUL – advanced techniques of canine elbow dysplasia, Las Vegas, 2015