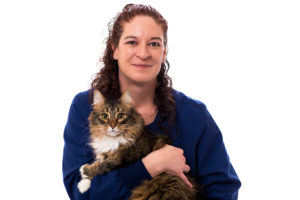 Angie was raised in Sheridan, Wyoming.  She holds a Bachelor of Science degree in biology with a minor in chemistry from MSU-B. She also has specialized training with Kyon Veterinary Surgical Products. Angie has been a veterinary technician with the Animal Clinic of Billings since 2001.   She is a great technician team leader and scheduler as well as a 'miss-fix-it' (or 'miss-call-who-can-fix-it').  She loves working with the variety of dogs and cats that come through our practice.  Angie also enjoys participating in surgeries and orthopedics with Dr. Brown.  In her spare time, she spends summers at the race track with her husband.  She enjoys sleeping

 , dirt circle track racing with her husband, and driving her jeep.
Pets: Shiva – Domestic Short Hair, Chase – Domestic Long Hair
Interesting Fact:  She is extremely hard working and will do anything she is asked (and do it well).
Favorite Quote: "Throw me to the wolves and I will return leading the pack." – Jahzi, Mad Scientist Lyrics