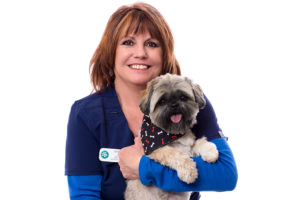 Donna G. Olsen – Receptionist
Donna joined the Animal Clinic of Billings In 2017. She is a witty, friendly, and creative talker who meets and greets every client who walks in the door with a big smile. Donna first entered the receptionist field following the birth of her youngest child in 1995. 
Over the years she acquired skills in not only customer service, but also technician and management. Donna prefers customer service and is happy to have returned to the receptionist position because she finds it fulfilling to see very sick pets recover and go home healthy and happy with their owners.
At home, Donna cares for a Himalayan cat, a Domestic Short Hair cat, a Shih Tzu, and a Queensland Blue Heeler.