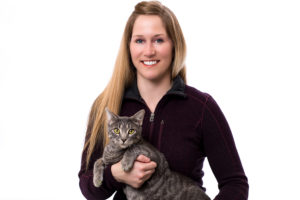 Bobbi Jo Massic, DVM
Veterinarian at The Animal Clinic of Billings
Active member of the AVMA (American Veterinary Medical Association)
Active member of the MVMA (Montana Veterinary Medical Association)
Current USDA accredited veterinarian through the NVAP (National Veterinary Accreditation Program)
Adjunct Professor of Veterinary Medicine for Washington State University (WSU-CVM)
"Being the voice for my patients who cannot speak for themselves and advocating for their health and well-being is something I feel very passionate about. Working with pet owners to achieve a treatment plan tailored to their unique circumstances is very rewarding."
                                                                                                       – Dr. Bobbi Jo Massic, DVM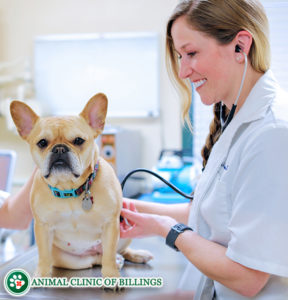 Dr. Bobbi Jo Massic is a Montana native, who grew up in Columbus Montana, just outside of Billings. Dr. Massic did her undergraduate work at MSU (Montana State University – Bozeman) where she graduated with honors in 2006 with a Bachelors of Science degree (B.S.) in Biotechnology – animal systems with an emphasis on pre-veterinary prerequisites.
Promptly after graduation, Dr. Bobbi Jo Massic took a job at the Bozeman Deaconess Hospital where she utilized her biotechnology degree to the fullest by working alongsidePathologists in Deaconess Hospital's laboratory. Here she handled and processed tissues from surgery to make diagnoses for the doctors.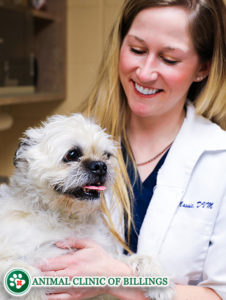 Additionally, Dr. Massic participated in a paid position following an internship with a local Biotech firm where she conducted controlled test studies focused on the spread of bacterial infections within medical care facilities in search of identifying a means to improve current containment methods. Through a series of isolated case studies, medical supplies and hospital devices derived from outside private companies were tested against varying strains of bacteria to help identify a viable containment remedy and develop a product worthy of decreasing the spread of in-hospital infections for patients in medical institutions.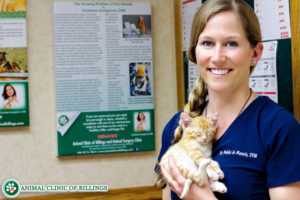 Upon fulfilling two years of medical research and bio-tech lab work at Deaconess Hospital, Dr. Massic returned to veterinary medicine in 2008, accepting a seat at WSU (Washington State University), and earning her doctorate in veterinary medicine in 2012. Her love for Montana pulled her back home after graduation and she was soon working at a 24-hour emergency care veterinary hospital in Billings before quickly landing a full time veterinarian position at the Animal Clinic of Billings in 2013.
Dr. Bobbi Jo Massic pioneered the preceptorship program, partnering the Washington State University Veterinary Program (WSU-CVM), with the Animal Clinic of Billings to give WSU-CVM students the opportunity to receive school credit, as well as outstanding hands-on mentorship by applying for an internship with the Animal Clinic of Billings prior to graduating Vet School. Dr. Massic continues to serve as a trusted mentor to veterinary students, as well as high school students and enjoys volunteering her time and expertise to those who seek out veterinary medicine education or careers.
POST-DVM EDUCATION & SPECIAL INTERESTS
Advanced Veterinary Dentistry, Tooth Extraction and Dental Surgery
Clinical Care for Pocket Pets and Exotic Animal Medicine
Animal Dermatology and Allergy Testing
Feline Health and Medicine
Small Animal Surgery
PERSONAL
Dr. Bobbi Jo Massic has a strong athletic background, and spends most of her free time competing on a local and national level in dirt-bike racing and adventure riding. In 2018, Dr. Massic co-founded MTWOW (Montana Women On Wheels) dirt biking club, Montana's first women's only AMA (American Motorcycle Association) sanctioned club. Dr. Massic continues to serve as an active member of her local BMC (Billings Motorcycle Club) and Brand Ambassador for KLIM. Dr. Massic enjoys spending her time sharing the adventures of the outdoors that her beloved home of Montana has to offer such as hunting, fishing and dirt biking with her boyfriend, her dog Clutch and her cat Piston.