Veterinarian at The Animal Clinic of Billings
AVMA Member
Montana VMA Member
Honey Bee Veterinary Consortium Member
Education and Honors:
Cornell University, Ithaca, NY, B.A., Biology, Archaeology, May 2008 
Honors: Dean's List, College of Arts and Sciences, 2007 and 2008
The Ohio State University College of Veterinary Medicine, Columbus, OH, DVM, 2012
Honors: Magna Cum Laude; Phi Zeta Honors Society (inducted June 2011); Excellence in Shelter Medicine and Surgery Award (June 2012);
OSU Scholarship in VME recipient (2010-2011 & 2011-2012)
Regional Veterinary Referral Center, Springfield, VA June 2012-July 2013 Rotating Internship in small animal emergency, medicine, and surgery
Additional Training & Continuing Education:
Wild West Veterinary Conference, Reno, NV, 2014
AO Principles of Small Animal Fracture Management Course, San Diego, CA, 2015
AO Advanced Techniques in Small Animal Fracture Management Course, Columbus OH, 2016
WVC Rigid & Flexible Endoscopy Course, Oquendo Center, 2017
Montana VMA Annual Meeting, January 2019
Western Veterinary Conference, February 2019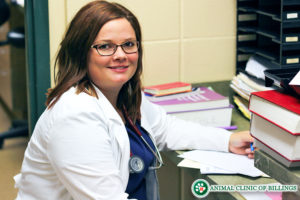 Dr. Youngstrom joined the Animal Clinic of Billings in 2013 as the clinic's weekend veterinarian, providing emergency care and managing hospitalized patients. She was born and raised in Cleveland, Ohio, but her Montana roots are strong. Her Great-grandfather was a homesteader outside Red Lodge around the turn of the 20th century, establishing a successful cattle ranch that is still in operation.
Following graduation, she participated in a year-long rotating internship in small animal medicine and surgery at a prestigious emergency and referral center in Springfield, Virginia. This experience enhanced her skills in handling both medical and surgical emergencies and managing intensive cases under the supervision of residency-trained criticalists.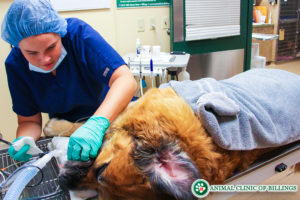 Dr. Youngstrom dealt with a large number of emergency presentations during her internship, including toxicities, major trauma, heart failure, DKA, seizures, hemolytic crises, urethral blockage, acute renal failure, DIC, sepsis, pancreatitis, and GI obstructions. 
Dr. Youngstrom's professional interests include soft tissue and orthopedic surgery, theriogenology (reproduction), internal medicine and oncology, hospice and palliative care, feline medicine and surgery, shelter medicine and surgery, and honey bee health.
Personal
In her free time, Dr. Youngstrom enjoys horseback riding, hunting, fishing, leatherwork, photography, gardening, and cooking. In addition, she recently added bee keeping and veterinary care of bees to her list of interests.