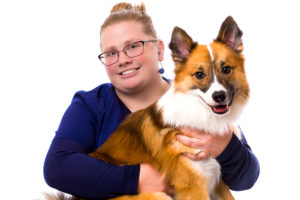 Heather Kovis – Laboratory Technician
Heather joined the Animal Clinic of Billings in 2007. She manages the clinic's in-house laboratory and working in a scientific setting sparked her interest in stem cell regeneration therapy for pets. When the Animal Clinic  began offering stem cell regeneration therapy in July 2013, Heather put her scientific skills to use and became proficient in Stem Cell and PRP preparation, Platelet-rich plasma (PRP) therapy, uses injections of a concentration of a pet's own platelets to accelerate the healing of injured tendons, ligaments, muscles and joints. In this way, PRP injections use each individual pet's own healing system to improve musculoskeletal problems.
Heather cannot pinpoint the most fulfilling part of her job because she enjoys educating clients on everything. Heather is also pleased she plays a role in helping accelerate healing in our furry friends by offering less invasive, safer, often less expensive, and effective alternative treatment options. 
Heather's has a full household including a Labrador mix, a Miniature Poodle, an Icelandic Sheepdog, three cats and an Appaloosa gelding.
Education:
Bachelor of Arts in Literary Studies from Rocky Mountain College.