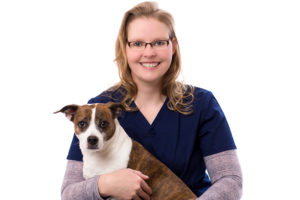 Hilaree Fuchs
CVT – Animal Clinic of Billings and Animal Surgery Clinic
Hilaree has worked  in the veterinary medicine field for 22 years. She joined the Animal Clinic of Billings in 2010.  Hilaree has a keen interest in assisting in orthopedic and surgical procedures and is highly trained in sterilization and infection protocols.  In addition, Hilaree possesses a strong knowledge of anatomy, physiology, and medical terminology, and is an expert in the different materials and equipment involved in applying and removing casts, splints, and braces. She also works with owners on how to care for their pets' injuries. Hilaree orthopedic surgeries and fractures the most fulfilling aspects of her job.
Along with her surgical technician skills, Hilaree knows her way around a toolbox and can be found poking around under the hood of a colleague's car, tightening bolts on gurneys, and hanging pictures in the clinic's reception areas.  
Hilaree's household includes two Boston / Jack Russell Terriers, a Boston/Jack/Heeler. A German Shepherd and four Morgan horses.
Training and Continuing Education:
American College of Veterinary Surgeons (ACVS) Arizona, 2018
ACVS, Nashville, TN , 2016
Wild West Vet Conference (WCV),

 

Las Vegas NV, 2015
WVC, Reno, NV, 2014