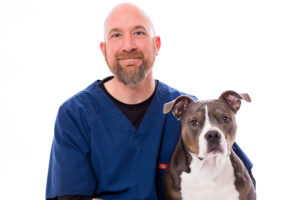 Jer M. Henry
Canine Physical Rehabilitation Assistant – Animal Clinic of Billings and Animal Surgery Clinic
Jer joined the Animal Clinic of Billings is 2018. He is a skilled canine physical rehabilitation assistant with a passion for participating in the recovery of pets that have undergoing orthopedic surgery. 
Part of Jer's responsibilities include applying manual therapy, stretching, joint mobilizations, joint glides, and other neurologic-based manual therapies, as well as providing therapeutic exercise programs to help promote optimal movement and healing in canine pets. A typical day for Jer may include treating pets with heat and cold therapy, massage, underwater treadmill, or therapeutic laser therapy, to name just a few of the modalities and treatment methods available at the clinic's canine PRT department.
Jer is also the clinic's pet nutrition guy. He promotes the importance of nutrition in the health of pets to both our staff and to Animal Clinic of Billings' clients and keeps informed about the latest pet nutrition developments. He also manages the ordering and delivery of veterinary-recommended Hills and Royal Canin diets for dogs and cats.
Jer shares his home with a Pitbull and an African Grey Parrot.