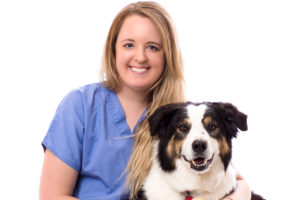 Katie was raised on the outskirts of Billings. She is currently pursuing a physical education degree from Montana State University-Billings and working with her mom in the physical rehabilitation department of the Animal Clinic of Billings. Past jobs include working horse sales at Billing Livestock.  When she is not at the Clinic, Katie is barrel racing or attending college.
Pets: Salty – McNab/Border Collie Mix, Nikita – Quarter Horse, Stella – Quarter Horse Filly
Interesting fact about Katie: When she was young, Katie was bitten in the eye by a dog and had to undergo eye surgery.  Had the surgery been unsuccessful, Katie's eye would have constantly produced tears. The procedure was successful and Katie still loves dogs.
Favorite quote:  "All you need is 20 seconds of insane courage and I promise you, something great will come of it." – Matt Damon as the character Benjamin Mee, from the 2011 film, We Bought a Zoo