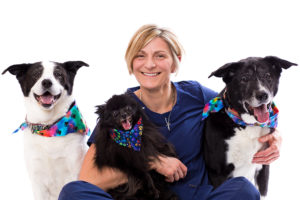 Laura Moore – Canine Physical Rehabilitation Therapist
Laura Moore, is one of our canine physical rehab therapists at the Animal Clinic of Billings. She initially worked at the clinic from 1992 – 2007. Following a 10 year hiatus we were fortunate enough to have her return to the clinic.
Laura is known for her gentle touch and  fear-free approach to pets in need of physical rehabilitation. She is passionate and dedicated to the rehabilitation and conditioning of companion animals. To accomplish her goals and facilitate healing, she uses a variety of therapies including massage, underwater treadmill, therapeutic ultrasound and therapeutic laser. In addition, Laura keeps pets strong and agile with physical conditioning which benefits the overweight and out of shape pets. 
Laura finds the hands-on experience of working with both the animals in need of physical rehabilitation and their owners to be the most satisfying part of her job. Her love of pets is reflected in her home, where she has three dogs, one cat and one horse. She claims this is the smallest number of animals she has ever had since the beginning of her career. 
Education/Training:
Bachelor of Science Degree, Animal Science, Cornell University 
Certified Veterinary Technician  
Advanced Training:
Canine Rehabilitation Program, University of Tennessee  
Canine Massage and Acupressure, Holistic Touch Therapy, Dr. Sue Furman
Fear Free Certification Program, AAHA 
Numerous continuing education seminars covering a variety of canine physical therapy techniques over the past 21 years of her career