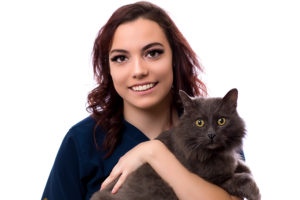 Tasha Lopez – Kennel Assistant
Tasha joined the Animal Clinic of Billings in 2016. She is a staple around the clinic, providing daily care for the dogs and cats that are boarded in clinic kennels. She helps clean cages, and dog runs, and assists in bathing, grooming, exercising, and feeding our furry boarders. Tasha always has a smile on her face and jumps in to help wherever she is needed. Her favorite part of the job includes working with both the animals and her coworkers, who she says teach her new things every day.
At home Tasha takes care of a Domestic Long-Hair Cat and three Chihuahuas.