Veterinary Orthopedic Surgery For Your Pet
Broken Bones and Complicated Fractures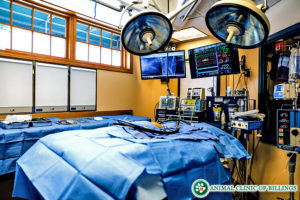 At the Animal Clinic of Billings, we see pets and animals with a variety of orthopedic conditions almost every day. If your pet is favoring one leg over another, either continuously or intermittently, there may be a problem with their joints. Sudden limping, difficulty in standing up, slower than normal movement, pain, swelling or the appearance itself could indicate a broken bone or torn ligament in your pet. Some animals may also require veterinary orthopedic surgery to correct a congenital problem they were born with. 
If your pet has a broken bone, our orthopedic surgeons are here to help! Many of the surgical procedures performed by our veterinarians can be among the most advanced and cutting-edge procedures. Certification to perform many of these operations requires specialized training after veterinary school and specialized equipment.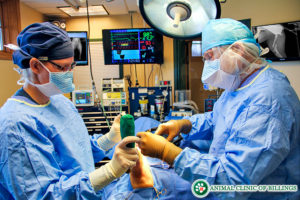 Many animals will need surgery at least once in their lifetime. As caring pet owners, we want our furry companions to receive the best veterinary care available. Our facility features a state-of-the-art modern surgical suite, and our doctors perform all types of surgical procedures with top of the line anesthetic monitoring equipment to ensure our patient's safety and comfort.
In many cases, broken bones and complex orthopedic conditions will require substantial support to maintain proper alignment and achieve long-term success. Orthopedic surgical intervention can give your pet the ability to regain use of a limb or other body part that otherwise wouldn't be possible.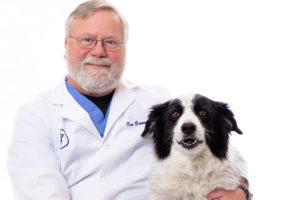 Doctors Brown and Flamme have more than 65 years of combined veterinary practice experience and have successfully managed thousands of complex orthopedic injuries.
Learn About Orthopedic Surgery & Your Pet:
What Is Veterinary Orthopedic Surgery?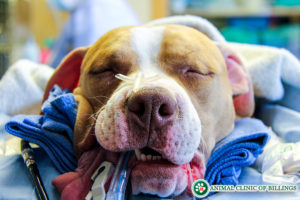 Veterinary orthopedic surgery describes any surgical procedure that repairs broken bones, spines, muscles, joints, or torn ligaments. The objective of every orthopedic surgery is to align broken bones back to where they should be and then pin or hold them in place firmly so that healing can take place and be done correctly.
If your pet has a broken bone or other orthopedic condition, surgery is the most effective way to correct and manage the issue. In most cases, surgery is the only way your pet can hope to regain mobility and function from the injury and return to a normal state of health.
Orthopedic surgery, in general, uses surgical procedures to bring damaged area back to a normal state. Our surgeons achieve this with the use of surgical implants, including pins, screws, bone plates, external and internal fixation, casts, splints, bone grafting, and other forms of artificial support systems.
What To Expect During Your Pet's Orthopedic Surgery
Before Surgery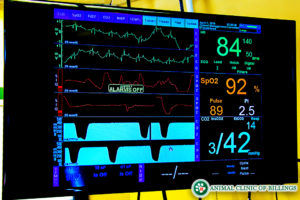 If we schedule your pet for orthopedic surgery, they will require heavy sedation, anesthesia, and supplementary oxygen. We will run blood tests and thoroughly examine your dog to ensure they are healthy enough for surgery and establish the safest type of anesthesia required for your pet. In many cases, critically injured patients may require additional precautionary tests and procedures before or leading into orthopedic surgery.
X-Rays are taken both of the fracture site, and the opposite limb for comparison. Your veterinary surgeon will use the X-Rays to decide the best course of action, surgical procedure, and if necessary, implant type to repair the fracture, including the size of plates, pins, or screws required.
After Surgery
X-rays are performed prior to surgical wound closure to ensure an optimal position of the bones and implants have been achieved.
Some common types of orthopedic surgery procedures our veterinary surgeons routinely perform at The Animal Clinic of Billings include:
Advanced Osteotomy for ALD Limb Straightening
Anterior Cruciate Ligament repair (ACL, CrCL or CCL)
Bone Grafting
Carpal Hyperextension / Arthrodesis Joint Fusions
Diagnostic and Surgical Arthroscopy
Femoral Rear Limb Head and Neck Ostectomy (FHO)
Hemilaminectomy Spinal Surgery
Lumbosacral Stenosis & Spine Disease Correction (LS)
Proximal Abducting Ulnar Osteotomy (PAUL)
Tarsal Arthrodesis Joint Fusions (Complete and Partial)
Tibial Plateau Leveling Osteotomy (TPLO)
Tibial Tuberosity Advancement (TTA)
Total Hip Replacement (THR)
Triple Pelvic Osteotomy (TPO)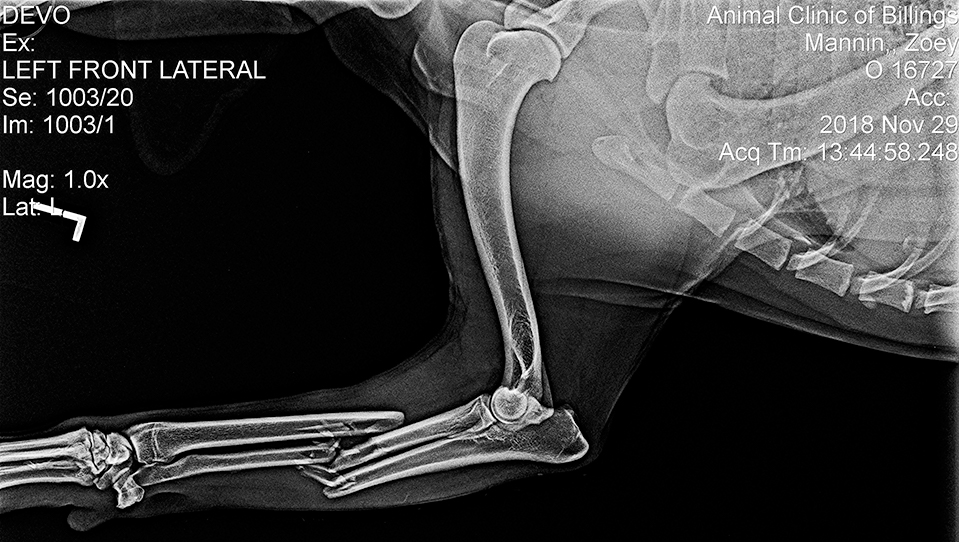 ANESTHESIA, ANESTHETIC SAFETY, AND MONITORING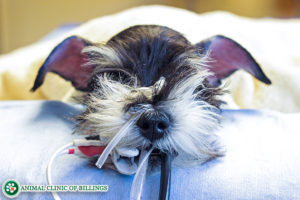 Uncertainty and fear of anesthesia are one of the most common reasons that pet owners are reluctant to give their pets necessary medical procedures. At the Animal Clinic of Billings, you can rest assured that your pet will be carefully monitored and very well cared for before, during, and after undergoing anesthesia.
Anesthesia and monitoring are essential, integral aspects of every surgery we perform. Anesthesia is tailored to the individualized needs of your pet based on a number of factors. These include the type of procedure, your pet's preexisting conditions, blood test values, age, breed, and prior anesthetic experience — the more appropriate the anesthesia, the fewer side effects and the faster the recovery.
TIPS FOR PREVENTING BROKEN BONES AND FRACTURES
Bone fractures are commonly the result of external trauma that occurs in otherwise healthy pets. Their injuries are painful and stressful and often require the expenditure of time and resources to successfully manage. We call the incidents that cause these injuries "accidents," and they are. 
However, there are some common causes of these injuries that can be prevented:
Avoid placing un-tethered dogs in the backs of open pickups and don't allow excitable dogs to ride in the cabs of vehicles with open windows.

Do not pick up dogs by their front legs. Their legs are not handles, and bones can snap.

Let the puppies do the walking: Toddlers and small children should not carry puppies because, like young humans, puppies squirm, and then they get dropped, and their bones break. It's safer to let the pups walk on their own and better for their physical development.

Blow the horn: Country dogs, especially ones who spend their lives outdoors, will seek out shade on hot days. Often, dogs nap under vehicles and trailers. Always check under and behind cars for pets (and children). Honking your vehicle's horn is an effective wake-up call and a good practice before driving off.
IF YOUR DOG OR CAT BREAKS IT'S LEG OR ANY OTHER BONE – GET PROPER HELP IMMEDIATELY!
When accidents occur and bones are fractured see your veterinarian immediately. All bone fractures are not created equal nor is a good outcome assured no matter how well fracture patients are managed.
Follow the advice of your veterinarian – who always has your pet's best interest in mind. Fracture-stabilization and fixation surgery may be needed for proper healing instead of a more straightforward cast or splint. If your veterinarian advises an operation and they are unequipped to perform, and suggests a referral to a veterinarian that is so equipped, follow that advice.
Planning and decision making during early care are most important when dealing with significant injuries.
RECOVERY FOR PETS AFTER VETERINARY ORTHOPEDIC SURGERY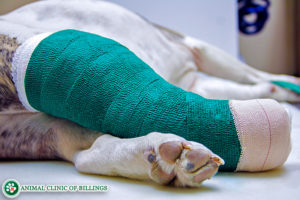 Many orthopedic surgery patients will require a lengthy recovery period after surgery and may need physical rehabilitation therapy as well. Typically, a minimum of two weeks exercise restrictions are required after minimally invasive procedures, and a minimum of over six weeks exercise restriction can accompany some major orthopedic surgery procedures. After the initial exercise restriction period, limited activity can be implemented for four to six months. Your veterinary orthopedic surgeon and one of our physical rehabilitation practitioners will design an aftercare protocol to meet the individual needs of your pet.
HOW TO PREVENT YOUR PET FROM BREAKING BONES
Many orthopedic surgery cases can be the result of an accidental injury or genetic predisposition, so it's important to remember that not every fracture or orthopedic condition in pets is necessarily preventable by the pet owner. Having said that, one of Dr. Brown's mottos here at the Animal Clinic of Billings is, "If it's predictable, it's preventable." Necessary safety precautions such as providing a fenced-in yard and using a leash outside the home can be effective ways of decreasing the chance of your furry companion breaking a bone. 
ANIMAL CLINIC OF BILLINGS AND ANIMAL SURGERY CLINIC
providing our region's companion animals and their families what they need and deserve since 1981
1414 10th St. West, Billings MT 59102
406-252-9499