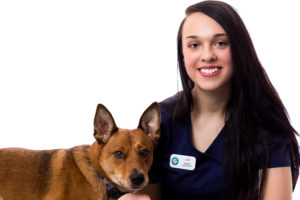 Alexa (Lexi) Heffel – Kennel Attendant, Technician's Assistant
Lexi has worked for the Animal Clinic of Billings since 2014. She started out as a kennel attendant, and over the years, as her interest in caring for pets blossomed, Lexi took on the added responsibilities of technician's assistant. 
Her duties encompass a wide array of tasks, from keeping medical records to administering shots and medication.  
Lexi loves helping with pet emergencies, especially surgeries and being surrounded by her coworkers at the clinic. Once she graduates from high school, Lexi plans to attend MSU-B in pursuit of a career in the veterinary field. Lexi shares her home with one Ocicat, one domestic medium hair cat and a Red Heeler.